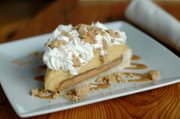 At least around here, it's hard to find a restaurant serving peanut butter pie — and one of the last spots you'd expect it is an Italian place. But Intorno owner and chef Jim Vaughn says he's fine with squeezing some all-American onto his menu, especially if it's in the form of his decadent house-made Peanut Butter Pie.
"It's my favorite dessert," Vaughn confesses. "It's what I like to eat."
This pie has a cool, creamy peanut butter filling over a gooey ribbon of what could be described as peanut butter ganache (if such a thing exists). It's covered in whipped cream, a drizzle of caramel sauce and homemade sweet peanut butter crumbles.
Where to get it: Intorno, 801 Massachusetts St.
What you'll pay: $7.50
Try it with: Coffee, to counteract the onset of possible sugar coma.
Also on the menu: Linguine Monte Mara and other pastas, sandwiches such as the Italian Club, crab cakes and other — more Italian — desserts, including tiramisu and fresh homemade cannoli.
— Off The Beaten Plate highlights some of the more exotic, oddly named or inventively concocted (for better or worse) dishes from local menus. Know of an offbeat menu item we should check out? Email food and features reporter Sara Shepherd at sshepherd@ljworld.com. Tweet her at Twitter.com/KCSSara.