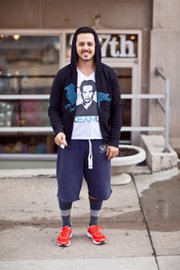 Name: Louis Anajjar
Age: 32
Relationship status: Single
Hometown: L.A.
Time in Lawrence: Six years
Occupation: We'll see. I'm currently pursuing opportunities to work in the film industry.
Dream job: Directing, writing and acting
What were you doing when scouted: Taking a walk with a friend.
Describe your style: Keanu Reeves meets Marwa Ghazali: eclectic and comfortable.
Fashion trends you love: I like v-neck T-shirts, the resurgence of colorful, dyed hair, cool sunglasses, and the wide-open playful nature of fashion right now. Honest, personal expression seems to be the trend I love.
Fashion trends you hate: I still don't like loafers.
Fashion influences: They are a mix of various philosophies and personal memories. I incorporate some ideas of simplicity, contentment or clarity and apply it to my wardrobe, which leads me to have a small number of clothes that I feel good in! Personal memories or experience allows me to incorporate timeless items like Nike Air Max for tennis shoes, a denim jacket and a pair of baggy sweats. Fashion is really about wearing things that let 'who you are' shine through.
What would you like to see more of in Lawrence: More ethnicity and a growing local music scene with bands like Cloud Dog and Cowboy Indian Bear.
Less of? The occasional wild dogs that try to bite me on Mass. Street.
Tattoos or piercings: Yes, I have a tattoo.
Whom do people say you look like? Robert Downey Jr.
What type of music do you unwind to: Sade
Tell us a secret… I was recently invited to train with Anderson Silva and his team at his private gym.
More like this story on Lawrence.com