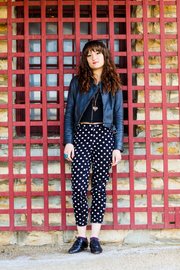 Name: Ruby Love
Age: 17
Relationship status: Taken
Hometown: Lawrence
Occupation: Currently studying photojournalism
Dream job: Traveling outside the country as a photojournalist.
What were you doing when scouted: Just lounging.
Describe your style: Vintage influence, I guess. I just put things together. I don't know that I have a particular area that I fit into.
Fashion trends you love: Anything high-waisted and having one pop of color without going crazy.
Fashion trends you hate: Tights or leggings as pants. Anything where you are not wearing pants.
Fashion influences: I really like [the website] LookBook.nu and people around town.
What would you like to see more of in Lawrence: People dressing up and food trucks.
Less of? Students out in the city in their pajamas
Tattoos or piercings: Yes, my ears are pierced.
Whom do people say you look like? I never get that.
What type of music do you unwind to: I've been into James Blake lately and very old jazz.
Tell us a secret… I'm more into fashion than I'd like to admit.
More like this story on Lawrence.com