When Lawrence native Jordan Brown reflects on his experience in public schools, he sees a system that needs to better address educational needs of aspiring musicians.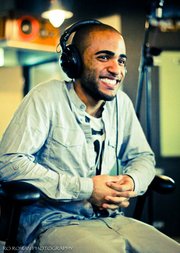 Rather than simply complaining, the aspiring musician recently launched a crowd-sourcing campaign to raise funds to complete his debut album, "Alien," and to donate any equipment he uses to a select high school to promote the integration of media in secondary education.
Brown graduated from Lawrence High School in 2008 and left for Boston to attend the Berklee College of Music. After one year in Boston, he headed to New York, where he currently resides, to spend another year teaching himself media literacy from YouTube videos. He couldn't help but realize how much sooner he could have familiarized himself with the production industry.
"I just thought, 'Wow I could have learned a lot of this in school, and if I would have had the opportunity to have these resources in public education, I would have already been working on this album way back when,'" he said.
The needs of students who choose the music route should be acknowledged in public education now, Brown said. His goal is to contribute to this conversation through this gesture.
"It's something I can do now. I don't have to wait until I have a lot of money and resources," Brown said.
The long-term hope is that students will learn about this campaign, hear his album and feel inspired to take the initiative to work with teachers to build their own projects within the curriculum, something that could count toward college credit.
The project aims to raise $19,170 by May 15 on idiegogo.com. The funds will go toward professional mixing and mastering of the album, as well as music videos and promotion of the music. Everything from his speakers to his interface will be donated to a high school once the project is complete.
While the amount seems daunting, Brown said, this is a conservative budget for an independent artist. As of Sunday, the musician has raised about $2,600.
More than 80 people have already contributed to this campaign by volunteering their talents to the album. Brown was excited to involve his alma mater by having Lawrence High School's a capella choir record two tracks on the album. He has also had acquaintances from conservatories in Boston help with this endeavor.
"Alien" has been in the works for more than two years. The album reflects a collection of Brown's many influences including Kanye West, Michael Jackson and orchestral composer John Williams.
"It's kind of a funky mix," Brown said. "It's very fruitful and honest."
While, he said, the album has a mainstream hip-hop and pop feel, a portion of the content includes social commentary on changing paradigms within education, divorce, relationships and youth environment.
For a taste of Brown's music, check out his first released single, "21st Century."