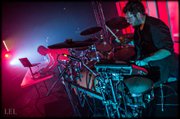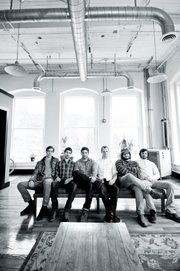 If you go
Kanrocksas organizers have not finalized a schedule for bands yet, but the full lineup includes Tiësto, Fun, Yeah Yeah Yeahs, Passion Pit, MGMT, Kendrick Lamar, The Avett Brothers, Imagine Dragons, Miguel, Edward Sharpe & The Magnetic Zeros, She & Him, Sublime with Rome, Dropkick Murphys, Machine Gun Kelly, T-Pain and more.
A limited number of two-day passes are now available for $175, with camping passes discounted to $25, at kanrocksas.com, where a full lineup and more details about the festival can also be found.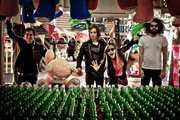 A group of folk-rock musicians, brothers who make music on the fly and a few beautiful bodies will be among local and area talent taking the stage this summer at the Kanrocksas Music and Arts Festival.
After a successful inaugural festival in 2011, Kanrocksas is set to return June 28-29 to the Kansas Speedway in Kansas City, Kan., and will feature 60-plus bands and musicians, including big-name acts such as the Yeah Yeah Yeahs, Fun, Passion Pit and Kendrick Lamar.
"We are really excited so many rad bands are coming to Kansas City to play," said Thomas Becker, guitarist for the Kansas City, Mo.-based Beautiful Bodies, also set to perform at the festival. "I think it is a testament to how great our scene is in the Midwest."
The local contingent of Kanrocksas performers also includes Quiet Corral, a six-piece band from Lawrence. Formed in 2010 by longtime friends with a common interest in music and starting a band, the folk-rock group had its first gig ever at a Kansas University sorority battle of the bands competition, says Garrett Childers, backup singer and guitarist.
"We were just playing music for the fun of it," Childers recalls. "Which we still are, but I don't think we ever thought we'd be touring. We just wanted to play music, and it turned into something, which is cool to watch."
The group is no stranger to festivals, having performed at SXSW and the Austin City Limits Music Festival. Still, "being able to perform alongside such big artists is always exciting," Childers says about Kanrocksas.
"It seems like it's going to be something that's going to stick for a while, so it's cool to be able to participate in the early years," he said.
Also performing are brothers and improvisational musicians Matt and Mark Hill. Going by the name The Floozies, the two-piece act's goal, Mark Hill says, is to sound like a "funk electronic orchestra."
"We try and sound like a huge funk band without adding band members is the concept," says Mark, who plays the drums alongside his brother's guitar and keyboard.
With the help of some pre-recorded tracks laid down by Matt Hill, the brothers use each performance to create "music on the fly."
"Basically being able to produce while you're playing live, if that makes sense," Mark explains about the The Floozies' improvised and completely instrumental sound.
The brothers have toured extensively across the country and even as far as Puerto Rico, but are looking forward to bringing their set closer to home this summer.
"I think people will dig it," Mark says. "Obviously, I'm biased, but I'm always excited to bring my music to people who don't listen to funk or don't listen to electronic music. So I think it'll be fun. I'm sure we'll get some new fans out of it. I'm hoping to."
More than music
There's a lot more to Kanrocksas than just the music, says organizer Bill Brandmeyer.
"Music is only half the story," Brandmeyer says. "The experience you can have with a festival that goes beyond the music is really what makes this a different event than a concert you would go to on a Friday or Saturday night."
Nonmusical aspects will include a live ongoing art gallery that will be supplied with works by more than 60 artists who will create art on site at the festival. Festival-goers can also create their own works of art on the street art wall. Other attractions will include large-scale installation art, performance artists and fire tossers, bungee jumping trampolines, a giant water slide, hot-air balloon rides and a Ferris wheel of lights.
In short, Brandmeyer says, it'll be "two days of just celebration."
"And we want to be stamped as a cultural phenomenon," he says. "Like a cultural event where the musicians and the techs and the audience and the sponsors, they all come together to create something that serves Kansas City in a really substantial and impactful way."