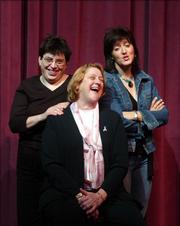 A public reception is planned to honor Candi Baker, who has announced her retirement after 29 years as director of dance at the Lawrence Arts Center.
The reception is planned for 5 p.m. Saturday in the lobby of the Arts Center, 940 New Hampshire St.
Baker, the founding director of the Arts Center's dance program, started in 1984 and went on to grow the program from two weekly creative movement classes to a comprehensive dance program with more than 200 classes a year in ballet, contemporary modern dance, tap, jazz, multicultural dance, fitness and yoga.
Baker, who holds a master's degree in dance from Mills College, applied her passion for arts education to serve as a leader for dance initiatives statewide. Under her direction, the Arts Center dance program has been home to two professional touring dance companies — the Prairie Wind Dancers and the 940 Dance Company — and is currently home to a Regional Dance America pre-professional company, the Lawrence Ballet Theater.
Baker was founding artistic director and lead choreographer of the Prairie Wind Dancers, which she led for 18 years as they presented concerts and workshops across the state and region. Highlights include creating and performing Carl Sandburg's "Prairie in the Flint Hills" with Eugene Friesen and the Paul Winter Consort, working with the women of Lawrence's First Step House to develop a work entitled "Stories of Addiction" and creating "Dangerous Curves, Breast Cancer Journeys" with Kelley Hunt and Caryn Mirriam-Goldberg.
"The Lawrence Arts Center is an amazing place where I have had the opportunity to teach, create, build develop programs and grow in my chosen field of dance," Baker said in a news release. "I have had many great years here, working with wonderful people, teaching and creating with dancers of all ages, making many friends, all while pursuing my passion for dance. This isn't goodbye: I am looking forward to having the freedom to spend more time with my grandchildren, and enjoying as many dance performances as I can — without the stress of being in charge of it!"
More like this story on Lawrence.com