Delicious
"The beet is the most intense of vegetables. The radish, admittedly, is more feverish, but the fire of the radish is a cold fire, the fire of discontent not of passion. Tomatoes are lusty enough, yet there runs through tomatoes an undercurrent of frivolity. Beets are deadly serious." — Tom Robbins, "Jitterbug Perfume"
When I read "Jitterbug Perfume" many years ago, I almost didn't finish it, partially because I just couldn't get into all the talk of beets. I was not a fan of beets and the continued description of them was making me a little queasy. I went on, a staunch beet-hater, for years, until I came to a sudden and dramatic change of heart this past February.
You see, my husband and I went to the Free State Brewing Company's annual Beer Banquet, and one of the courses was a little amuse-bouche of pickled beets and mascarpone topped with some micro greens.

It was small and pretty and not as intimidating as the blood-red canned beets I had in my imagination. And, you just don't go to the Free State Beer Banquet and not eat one of the courses. You just don't do that. So I ate it. And, I dare say, it was my favorite bite of the evening.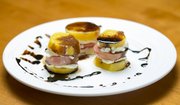 That is saying a lot — it had to stand up against mallard duck breast with port wine demi, sweet potato gnocchi, duck confit, and roasted carnival cauliflower with duck bacon. And even so, I loved the beet course best.
When Sarah suggested beets be our topic this month, all I could think of was that little tower of deliciousness. I had to try my best to replicate it. And while what I have here is far from what I ate that night, it is delicious in its own right and a sort of fancy and unexpected way to present a beet, especially if you are serving a meal in courses.
I went with golden and Chioggia beets because I wanted that pretty pink and yellow color instead of the dark, rich red of traditional beets.
I pickled the Chiogga beets in a red wine vinegar mixture and the golden ones in a cider vinegar because I wanted to maintain their natural colors as best I could. But any beets will do for this recipe — don't feel like you have to seek out the special ones.
Pickled Beets with Honeyed Mascarpone and Balsamic Reduction
4 Chioggia beets
4 golden beets
2 oz mascarpone
2 tablespoons honey
1/3 cup balsamic vinegar
Pickling solution
1/4 cup red wine vinegar
1/4 cup cider vinegar
2/3 cup water (for volume)
2 tablespoons sugar
2 teaspoons olive oil
1 teaspoon dried mustard
1/4 teaspoon salt
Cracked black pepper
First, slice your beets into uniform disks. Boil them for 30 minutes or until they are soft but not mush.
Meanwhile, prepare your pickling solution. You will need two pint-sized mason jars — one for each type of beet. In one, combine the red wine vinegar and half of the rest of the ingredients. In the other, do the same with the cider vinegar. Shake well to combine and rest while the sugar fully dissolves.
When the beets are done, drain them and rinse with cold water. The peels should just slip right off, but if they don't, use a paring knife and gently peel the slices, careful not to take off too much of the beet.
Drop them in their respective pickling solutions and let them sit, turning the jars over occasionally to mix, for an hour and a half, longer if you have the time.
Stir the honey and mascarpone together. Pour the balsamic vinegar into a small saucepan over medium-high heat until it boils.
Be careful — this can go too far very quickly, so stay near it and pull it immediately. It will have reduced to a thick sauce, but you don't want it sticky like tar.
When the beets are ready, start your assembly. Just build a little beet tower, three beets tall, alternating colors.
Use the honeyed mascarpone as "glue" — just about a half a teaspoon or a little more in between each layer.
Drizzle a tiny bit of balsamic reduction over the top and around the plate for color. Beautiful AND delicious!
Nutritious
Honestly, I love beets just the way they are. I juice raw ones all the time. I even make smoothies out of them. Or just have them on my salads, pink juice runoff be darned.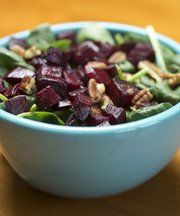 But my second-favorite way to have them is roasted with a little balsamic vinegar. The vinegar brings out the beets' sweetness, while adding a dose of tartness. I like making a large batch and having them around to put on top of salads, quinoa, veggie burgers ... pretty much anything.
If you're kind of afraid of beets — which is totally understandable if you've only ever had the canned kind — this is exactly the time of year to give them a go.
Local, fresh ones will be popping up at farmers' markets soon for their late-spring/early-summer season. One cup of beets nets you four grams of fiber, 11 percent of your vitamin C, 6 percent of your iron, and a whopping 37 percent of your daily folate needs, all for 58 calories.
Now, a warning: These beets aren't nearly as sweet or tangy as the balsamic-roasted beets you can buy already prepared. Those typically use some sort of sweetener, and I really have been trying to avoid added sugar lately, even if it is from honey or maple syrup or dates. But — and this is a good thing — I think because these beets aren't sweetened, they are more versatile. If you make them "straight" like this, you can mix in a little maple syrup or honey or add a bit of salt and pepper with each use if you think it's necessary.
Balsamic-Tinged Roasted Beets
2 pounds beets, peeled and cut into 1/2-inch pieces
2 tablespoons balsamic vinegar
1 tablespoon coconut oil
Preheat oven to 400 degrees. Line a large glass lasagna pan (or two small ones) with parchment paper.
In a large bowl, mix beets, balsamic vinegar and coconut oil. D
epending on the temperature of your ingredients, the coconut oil might stay hard, or appear in "pats" like butter — this is totally fine.
When you warm it in the oven, it will melt and coat your beets. Pour the contents of the bowl into your glass pan, spreading out the beets into an even layer.
Place beets in the oven and set the timer for one hour. Stir every 10 minutes with a spatula.
You may need to keep the beets in an extra 10 to 20 minutes, depending on how soft you like them. Serves 4.