Whether it is the bell bottoms from the 1970s or the edgy grunge trend of the 1990s, significant fashion periods in history have always been of interest to me.
I love to absorb fashion trends of the past because it really gives me an authentic feel for the culture back then. I can't help but to dig into the fashion archives born in the famous Roaring Twenties with the highly anticipated movie release of "The Great Gatsby."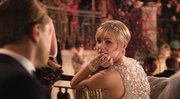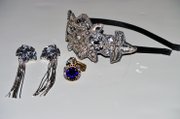 It's amazing to me how each season always seems to have a little bit of the past mixed into the designs. Flapper style isn't just for Halloween anymore. Recently many designers and retailers have created special collections for hungry fashionistas to wear a piece of the famed Gatsby era.
Being the perpetual shopper that I am, I have been seeing so many '20s-inspired pieces that really stand out to me and channel my inner flapper.
Hair embellishments
Jeweled ribbon headbands and hairpieces can really evoke your Roaring Twenties style. Just think gaudy jewels, and the bigger the better. Nothing dresses up an ensemble like an ornate piece to enhance your lovely locks. Printed silk scarves can be a subtle alternative to channel the movie's iconic style. If you're into DIY-ing, you can easily buy a thin, elastic headband, super glue, and bold jewels from any craft store. Fabric stores sell jeweled appliques that can be glued on to any plain headband for a super-affordable and one-of-a-kind piece.
Pearls and jewels
As much as striking jewels steal the show during the flourishing style of the '20s, pearls also played a major role. Simply donning chic strands of pearls will help you capture the fashion essence of the era. But bright, bold and art deco-inspired earrings will make you stand out in the best way possible. You can also slip on costume-style rings to make a striking statement. Your best bet would be to visit antique and vintage stores to find unique hidden treasures.
Roaring trends
Dropped waistlines, shift dresses, billowing feathers, sassy sparkles, fabulous fringe — the list goes on for this prosperous fashion period. It just so happens that most of these trends are currently popular, so you can conveniently find your coveted flapper style just about anywhere.
Although I haven't committed to a purchase just yet, the drop-waistline dresses have been on my style radar lately. The silhouette is new to me, but the design really encompasses the fashion culture of the 1920s. T-strap heels were the prevalent style of shoe during that era, and luckily for you, they have definitely made a comeback this season.
— Emily Kennedy is one-half of the stylish duo behind The Fashion Column blog she shares with her twin sister, Elizabeth. Emily can be reached at fashioncolumnblog@gmail.com.
More like this story on Lawrence.com