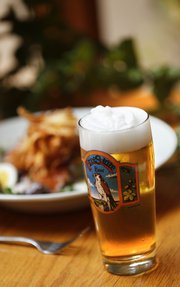 Beer 101
Find everything from a list of beer styles to tips on tasting beer online at beeradvocate.com/beer/101.
For more beer and food pairing suggestions, go online to brewersassociation.org. Click 'Brewpubs' then 'Business Tools and Resources.'
If anyone fits the beer-drinker demographic, it would be the beer-maker-in-chief at a brewery, right?
Well, Free State Brewing Co. brewmaster Steve Bradt has a secret that may shock people: He loves beer floats.
To be clear, Bradt isn't talking about plopping ice cream in a Bud Light.
The craft beer movement — being celebrated this week during American Craft Beer Week — is creating new, flavorful and multidimensional brews every day. Just like wine, these beers have colors, aromas, mouthfeels and flavors. And just like wine, they can be strategically paired with food to enhance the sensory experience of both.
"It's really shaken up what people see as the demographic of a beer drinker," Bradt said. "It's not just guys sitting in front of the TV watching a football game anymore."
In recent years, brewers at Free State, 636 Massachusetts St., have led numerous beer dinners at upscale restaurants in Lawrence and the Kansas City area, including one just last week at Rye in Leawood — days after its chef Colby Garrelts was named Best Chef in the Midwest by the James Beard Foundation.
The beer floats Bradt likes come from a more casual environment: the summertime Cottin's Hardware Farmers Market, 1832 Massachusetts St. Drop a scoop of ice cream from the Iwig Dairy stand into an Oatmeal Stout from the Free State stand, and you've made your own Stout Float.
Rich, creamy stout plus rich, creamy ice cream, with the beer's strong flavor balancing the ice cream's sweetness — it works.
Another of Bradt's favorite matches is strong, hefty beer such as barley wine with artisan cheese. The flavors go well together, Bradt said, and the beer's bubbles and crispness almost act as a palate cleanser between cheeses.
Last week amidst a morning of brewing, Bryan "Bucky" Buckingham, head brewer at 23rd Street Brewery, 3512 Clinton Parkway, surmised he'd probably be eating hot wings for lunch, along with a glass of IPA.
Why does that work?
According to the Brewers Association, good beer pairings either balance out or emphasize the flavor of the food. So as long as you can handle the heat, the hoppy bitterness of an IPA will rise up to the spiciness of those wings and emphasize the flavor.
Buckingham said he'd recently enjoyed a "nice Belgian blond" alongside an organic beet salad with champagne dressing while on vacation in San Diego. An avid fly fisherman, he also named blond ale and Kölsch, a light but medium-hoppy German style, as his favorite beers to drink with a day's haul of fresh trout.
But even Buckingham doesn't walk around furiously focusing on his next beer-food pairing all the time.
At the end of the day, there's another beer pairing rule that's just like wine: Drink whatever you like, whether an expert or some kind of chart suggests it or not.
Pizza is a case in point.
"It really doesn't matter what beer it is," Buckingham said, it's probably going to taste great.
Perfect pairings
Craft beer is generally agreed to mean all-malt beer brewed with traditional methods and ingredients, inspired by classic styles, according to the Brewers Association. Craft beer offers a huge range of colors, flavors, strengths and sensations, making it a natural companion to food.
The Brewers Association offers these examples of beer pairings for any course.
Salads and appetizers
Crisp, refreshing beers are the best way to start the meal. More delicate dishes call for more delicate beers that won't overpower them.
Try: Salad with a lighter wheat beer, bitter greens with a hoppy Pilsner, seared ahi tuna with a floral blond ale, rich appetizers such as cheese tartlets with hoppy American pale ale, New Orleans style shrimp with a spicy saison, smoked fish with a full-flavored red ale or amber lager.
Main courses
Match the intensity of the beer with the intensity of the food.
Try: Grilled fish with a Pilsner, roasted chicken with a malty lager or pale ale, barbecue with a Maibock or abbey-style dubbel to tame the heat, grilled or roast beef with a hearty porter or stout.
Cheese
Bright carbonation and crispness can handle cheeses' mouth-coating richness.
Try: Powerful cheese like Stilton with an assertive barley wine, blue cheese with an IPA, chèvre with hefeweizen, soft-ripened cheese like Brie with fruit beer, aged cheddar with stout, smoked cheese with a smoked porter.
Dessert
Rich, full-flavored beers are good for balancing the sweetness of most desserts.
Try: Fruity desserts with a strong pale tripel, caramelly bread pudding or nut tarts with old ale, super-sweet cheesecake or crème brulée with highly hopped beers like double IPAs, milk chocolate with Belgian-inspired strong dark ale, flourless chocolate cake or truffles with inky imperial stout, fruit desserts with fruit beers.