Photo Gallery
Spiritual photos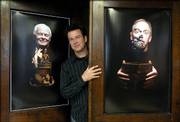 In the seven years since its first subjects were photographed in Lawrence, Scott Indermaur's "Revealed" project has developed a resume spanning multiple states and artistic media.
The project will have a homecoming of sorts this weekend, when an award-winning short film created about it, "Revealed: Portraits from Beneath One's Surface," screens at 1 p.m. Sunday at Unity Church of Lawrence, 900 Madeline Lane. The event also will include a discussion and book signing with Indermaur.
Seeking to learn how others connect with sense of self, Indermaur asked project participants to fill a small wooden box with items that represented their spiritual experience. Then Indermaur, a commercial photographer, photographed them holding it.
"The concept of identity and the awareness of a higher existence quickly evolved into a vessel of self-exploration and quiet confession," Indermaur says in his description of the project. "...What I find to be most interesting is the profound effect this project has had on so many of my subjects. Given the opportunity to look within, many experienced a journey that took them much deeper than their initial inner self-examination, which revealed undiscovered truths about themselves."
In addition to the short film, "Revealed" has since become a solo art museum exhibit, a fine art book and a collaboration with National Public Radio Rhode Island's program "This I Believe," Indermaur said. In addition to its many Lawrence, Topeka and Kansas City-area subjects, the project now includes photographs from Los Angeles, New York City and Rhode Island.
Indermaur now lives in Rhode Island. Read more about the project and see photos online at revealedproject.com.