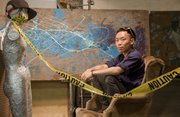 Samin Son felt the walls closing in. Having left art school in New Zealand, he was back in his native South Korea, performing the two years of military service required of the country's male citizens. Creativity was outlawed. Son was beaten down — physically, emotionally. He needed to express himself — bad.
Ordered to clean a mirror with a toothbrush, he covered it in white toothpaste, etching self-portraits into the gooey substance. His entire being breathed a sigh of relief.
That experience provides the inspiration for the Toothpaste Action Series, a performance art/mixed-media show Son is bringing to Lawrence this weekend. Wearing a military uniform, he will relive the most painful part of his life through performance art, video and music at SeedCo Studios, 826 Pennsylvania St., from 6-9 p.m. Saturday. He is the first participant in the Fresh Produce Art Collective's International Artist Exchange.
Lawrence artist and curator Yuri Zupancic met Son at a performance art party in his hometown of Wellington, New Zealand. They have been friends and partners in creativity ever since. When Zupancic found out Son would be doing a residency in San Francisco this month, he asked him to come to his art studio to do the same.
Since arriving earlier this week, Son has been painting, playing experimental music and sharing wisdom with local artists.
"It's kind of an all-out art orgy," Zupancic said. "It's just this big melting pot of creativity down here and he's a great ingredient to that."
Son grew up in the South Korean capital of Seoul, the son of a teacher and a Realtor. As a teen, he moved to New Zealand for high school, living in a small, rural town with foster parents.
At 19, he was conscripted into the South Korean army, starting his tour with five weeks of boot camp. As punishment for crimes as insignificant as asking for a cigarette or making eye contact, senior officers would beat him or force him to stand on his head with his arms behind his back and toes pointed to the ground, an act Son reenacts in his performances.
For nearly two years, Son served as a member of the country's riot police. While he didn't commit any violence himself, he witnessed traumatic acts that stay with him to this day.
For the aspiring artist, the worst part of the experience was not being able to express himself. The oppression fueled his creative drive even more, to the point that he credits it with shaping his career.
"When I got out of the army, all the accumulation of feelings that built up over two years — the urge and hunger to make and express and wanting to connect with people — just exploded," he said.
Now 25, Son has finished art school, and he travels the world performing his Toothpaste Action Series (the Lawrence show will be No. 14). He aims to prove to people that even in rigid, soulless settings, they can be who they are, and use the experience to encourage their achievements in life.
"If you know how to channel your energy, you can deal with any kind of hardship," he said.
Son has even performed in his native South Korea. After a show there once, a man thanked him for capturing the repressive experience of forced military service.
"I'm cured now," he told Son.
More like this story on Lawrence.com