Name: Jennifer Doores
Age: 64
Relationship status: Married
Hometown: Oskaloosa
Time in Lawrence: I've been visiting Lawrence for many years every summer, and finally moved here a year and a half ago.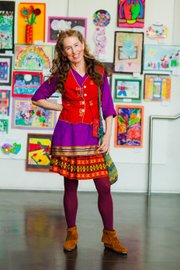 Occupation: Ceramic designer
Dream job: Movie critic
What were you doing when scouted? Messing around in the ceramics studio at the Arts Center.
Describe your style: Layered and multi-ethnic, alternating with plaid shirts and jeans.
Fashion trends you love: I like an eclectic mix of global, flapper, peasant and ranch-hand styles, but any style can be great looking if someone works it and owns it.
Fashion trends you hate: Pale lipstick, polyester and velour leisurewear. A lot of women have these big, beautiful butts and legs, and they shouldn't have to wear tight pants as much as they do. Most women have wonderful shapes whether they are big or skinny, and a skirt accentuates the shape and flow because they look beautiful that way.
Fashion influences: Frida Kahlo and Calamity Jane
What would you like to see more of in Lawrence? I like what I see in Lawrence. I wouldn't mind even more individual expression like women dressing for their own shape with their own color schemes.
Less of? Plucked eyebrows
Tattoos or piercings: No, I'd like to but I'm too lazy and too cheap.
Whom do people say you look like? Peter Pan or George Washington. He's my fifth-great uncle.
What type of music do you unwind to: Accordion music
Tell us a secret… I fantasize about being a point guard for the Jayhawks.
More like this story on Lawrence.com