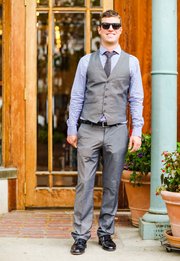 Name: Samuel Carmean
Age: 28
Hometown: Wichita
Time in Lawrence: Nine years
Occupation: I currently work at Wayne and Larry's sports bar but I am looking to make the jump to KC in a few weeks with no actual job in hand yet.
Dream job: To create my own golf-lifestyle-based apparel line.
What were you doing when scouted: I just got out of a meeting and I was cruising down the street.
Describe your style: I like to do my own thing. As far as formal style, I don't really have a lot of experience with that yet but I do follow Pinterest and comb through men's fashion [styles] to get ideas. I love golf, so in terms of golf apparel and everyday stuff, I try not to look like everybody else.
Fashion trends you love: I don't have a conscious preference. Whatever can subtly, or not so subtly, set you apart from the crowd.
Fashion trends you hate: I don't hate. There's a place for everybody.
Fashion influences: I just keep my eyes open whether it be on the street, on TV or just whatever I see that I like and then I try to bring that look out of my own closet or do a little shopping to find it.
What would you like to see more of in Lawrence: Lawrence is actually pretty good at doing their own thing!
Less of? I don't really have any criticism. I try to stay positive and I don't have any knocks on anybody. As long as anyone is dong their own thing and following their own path, you can't hate them for it.
Tattoos or piercings: Yes, I have one of my grandfather's name on my forearm and a few others that all have meanings to them.
Whom do people say you look like? I get told that I look like Royals outfielder Alex Gordon. On the golf course I get called Rickie Fowler a lot because of how I dress.
What type of music do you unwind to: I'm open to anything from singer/songwriter types to hip-hop. My iPod is a mess.
Tell us a secret… I do occasionally pick up some of my style tips from "Keeping Up With the Kardashians."
More like this story on Lawrence.com