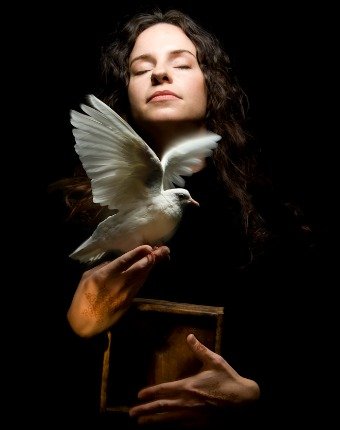 Seven years ago, Scott Indermaur set out to create a weekendlong photo project on spirituality. A book, radio show and museum exhibit later, he's learned more about his fellow man — and himself — than he ever could have imagined.
Indermaur is screening a documentary about the project, "Revealed," at Unity Church, 900 Madeline Lane, in his former hometown of Lawrence at 1 p.m. Sunday.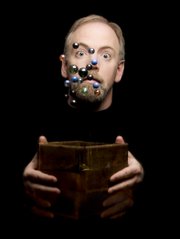 "This project has significantly changed me as a person and touched the lives of hundreds of thousands of people," Indermaur said in a phone interview from his home in East Greenwich, R.I.
In 2006, Indermaur, a professional photographer, dreamed up the idea of taking portraits with people holding boxes of items representing their lives and spiritual sides. He thought he would do it with a handful of people and be done. Instead, 32 friends and acquaintances from the Lawrence area showed up.
The project ended up being about more than just spirituality, he says: It turned into a intimate look inside the human mind, heart and soul. Indermaur has since photographed more than 200 subjects.
Some people have come with nothing, saying their lives were empty; others arrived with living things: a newborn baby, a cat, a dove. They've brought animal skulls, crucifixes, water, food. They've laughed and cried, often at the same time.
Along the way, Indermaur discovered ways he could improve himself, including being less judgmental and more open to new things.
Broadening interest in the project kept him going. For instance, after the initial session in Lawrence, a woman called him from Georgia. She said she had just purchased power tools on eBay that had come wrapped in a Journal-World article about "Revealed." She told him she had spent the weekend thinking about what she would put in her box, learning things about herself in the process.
"That was the point I realized this was having an impact on people," Indermaur said.
Photo Gallery
Spiritual photos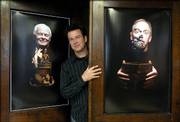 Another time, he thought the project had run its course. He hadn't photographed anyone in at least a year. Then, prior to a business trip to Los Angeles, some people asked if he could do a "Revealed" session out there. He did. An exhibit at the Newport (R.I.) Art Museum, collaboration with Rhode Island Public Radio's "This I Believe" and fine-arts book followed. He's even brought the project into the classroom, teaching elementary and high-school students how to create boxes of their own.
Now the 44-year-old father of two isn't sure when he'll stop the series. He hopes to take it across the world, exploring different cultures, to "reveal" even more about the human condition and, in the process, himself.
"This started as a weekend project. I never dreamed it would be a collaboration with a radio show, a museum exhibit," Indermaur said. "It's amazing — if you just follow your dreams and believe in them, they can take you on a whole new path."