It's about that time again for Kansas City's annual fashion spectacle, also known as the West 18th Street Fashion Show.
Although I've never attended, I've heard of its spectacular designs and beautiful setting.
Kansas City's Crossroads District serves as the backdrop for the show. As you can imagine, the historic buildings and artistic vibe are perfect for this premiere fashion event. This year's theme is Gilded Summer, and will be held June 8 at dusk.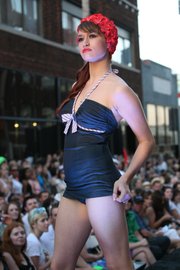 If you go
The West 18th Street Fashion Show will be held outside at dusk June 8 in the Crossroads Arts District on West 18th Street between Baltimore and Wyandotte. The theme Gilded Summer is based on the Gilded Age in U.S. American history, and is the artistic inspiration for the 18 collections that will be debuting on the runway.
"The theme 'Gilded Summer' opens up a complex world of inspiration — from worker's reform to circus sideshows, pugil politics to billionaires and boardwalks. We've asked the designers to explore this formative time in U.S. history and relate it to our current time — our Gilded Age," says Mark Southerland, the event's executive producer who has been involved with the show since before it was The West 18th Street Fashion Show.
The illustrious show started in 2001 with the goal to provide a creative platform in which emerging talent could be showcased. Eighteen designers that are picked from an outpouring of applicants by the show's selection panel have the opportunity to debut their designs down the picturesque runway.
Southerland says that the West 18th Street Fashion Show prides itself on creativity and innovation.

"We comb through dozens of applications to find fresh, forward-thinking collections to put down the runway. Then there's the compelling theme, amazing live music, and world-class production team — all of this goes towards distinguishing our show," Southerland says.
Since it started, the show has grown into a Kansas City staple and might be the city's biggest annual fashion event.
"It has become a cultural asset to the downtown and Crossroads Arts communities," says Peregrine Honig, the event's artistic director. "This is the foremost fashion event in Kansas City. Each year, the awareness and audience has grown, and we now consistently draw a sellout crowd of over 2,500 demographically diverse onlookers."
For standing room only, you can watch the show for free, but you also have the option of buying tickets for seats near the runway. With the show being held outside, there's always a risk of the weather not cooperating, but Honig assures that there is a backup space for ticket holders.
I will be attending the pre-show Patron party as well as the show in my gilded summer get-up, and can't wait to experience the artistic ambiance and fabulous designs it has to offer.
I would encourage anyone interested in fashion to check out this one-of-a-kind fashion show and experience the most-talked-about fashion event of the summer. When I asked Honig what we can expect from the show this year, she responded with a quote from Oscar Wilde: "To expect the unexpected shows a thoroughly modern intellect," which intrigues me even more to find out what the show will unveil this year.
Tickets to the West 18th Street Fashion Show can be purchased at Birdies, 116 W. 18th St., Kansas City., Mo.; Donna's Dress Shop, 1410 W. 39th St.; and online at gildedsummer.eventbrite.com.
— Emily Kennedy is one-half of the stylish duo behind The Fashion Column blog she shares with her twin sister, Elizabeth. Emily can be reached at fashioncolumnblog@gmail.com.