Well, I finally did it: I tried my hand at making croissants.
You know what? They're not that difficult. They're a little fiddly, but pretty simple overall.
Have a go at my adaptation of Christine France's recipe.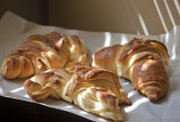 Dump 3 1/2 cups of sifted bread flour into a bowl. If you're siftless, use very scant cups. Add 2 tablespoons of powdered sugar, a teaspoon of salt, and one packet of active dry yeast. Stir it all together and add one and 1/4 cup of lukewarm milk. Hint: stick your (clean) finger in the milk. If the milk feels noticeably warmer than your finger, it's too hot.
Stir until you have a shaggy wad of dough, then turn it out onto a floured surface and knead until the dough is smooth and elastic. Try to avoid adding more flour; it'll feel dry, then sticky, then perfect in the space of five or 10 minutes. Put the dough into a greased bowl, cover it with plastic, and set it in a warm room to double in volume.
Now for the important part: the slab o' butter. Roll out a cup of unsalted butter between two sheets of waxed paper until you have a rectangle that's about 15-by-8 inches. Set the slab in the fridge until needed.
Once the dough rises, turn it out and knead gently for a minute. Roll it out into a rectangle that's slightly larger than the slab o' butter, which you will then place on top.
With a short edge facing you, fold the top third down and the bottom third up, making a dough-and-butter envelope. Give it a quarter turn and roll it back out to full size. Repeat the fold-and-roll process four more times. Wrap the dough in plastic and refrigerate it for a while if the butter starts to soften.
While your oven preheats to 400 degrees, divide your dough into halves. Roll each half into a large rectangle, and cut each rectangle into three long triangles. They don't have to be perfect — I just made two diagonal cuts across each piece to get my triangles.
Spread a thin coat of orange marmalade across the upper half of each triangle, and sprinkle sliced almonds over the marmalade. Roll up each triangle, starting at the base, and put them on an ungreased baking sheet. Tuck the points underneath and curve each roll into a "C."
Whisk an egg together with a little milk to make a glaze; brush this over the tops and sides of each croissant. Let them rise for about half an hour, and then bake for 15 to 20 minutes.
Be careful when you remove the pan from the oven, because your croissants will be swimming in melted butter. Let the croissants cool on a rack for a few minutes to avoid burning your lips on boiling marmalade. Trust me.
Serve these while they're still warm; the high fat content means that they don't keep terribly well.
Enjoy!