Adam Burnett's work is never finished.
"We develop shows over a process, and that process reveals itself as we go along," the 2008 Kansas University graduate says. "The idea is that a show is a constant work-in-progress."
Burnett, along with fellow KU alumnus Jud Knudsen (2007 graduate), is the founder of the Buran Theatre Company. The group specializes in traveling theater with a twist. Where a regular touring company casts a show, rehearses, and then takes it on the road, Buran starts from scratch at each location.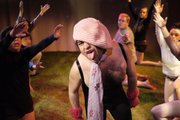 If you go
"Nightmares: A Demonstration of the Sublime" by the Buran Theater Company stages Friday and Saturday in the William Inge Theatre at Murphy Hall on the KU campus. Tickets are pay-what-you-will with a minimum price of $5. Curtain is at 7:30 p.m. The show is not recommended for anyone under the age of 18.
"In each city, we recast the show completely," Burnett says.
"Our main focus is taking the idea we are confronting and see what new things we find in it with each production," Knudsen adds.
The two men met while studying theater at KU. They founded Buran while still in school. Knudsen hung around Lawrence a year after graduating while Burnett finished. Then, despite continuing to work together, they went separate ways — Burnett to New York City, and Knudsen to Minneapolis. Now, they work from different locations but travel together to produce their work.
"We've sort of developed satellite offices in several cities around the country," Knudsen says.
The pair develop a show, and then take it on the road. In addition to performing in New York and Minneapolis, they routinely appear in Kansas City and Albuquerque.
"Everywhere we go, we immerse ourselves in the community," Burnett explains. "We try to see as much theater as possible and get to know as many people as we can."
That's enabled them to build troupes of actors and technicians in each locale, each with its own quirks and personalities.
"We like to allow the available equipment and people to influence each iteration of a show," Burnett says. "We're constantly tweaking it for the environment we have."
"We're big on time and space and people in a place," Knudsen adds.
The duo is back on the KU campus this week producing their play "Nightmares: A Demonstration of the Sublime" with KU theater students.
The play is a hybrid of terror and comedy, from the poets and authors of the summer of 1816 to backdrops of Henry Fuseli paintings, that confronts the anxiety of facing nature and ourselves amid the technology of the 21st century
"It's a show we originally wrote back in 2008 and had produced at the Lawrence Arts Center," Burnett says. "We've really stripped it down to its basic ideas and completely reworked it."
"It's based on this idea of advancing technology," Knudsen says. "As we keep advancing technologically, we're wondering what we're losing that's human. How do we stay in touch with the sublime?"
The pair is not only producing the show but also teaching their process to the students. When it opens Friday at the Inge Theatre in Murphy Hall, they'll have had only two weeks of rehearsal. And that's a big piece of how they like to operate.
"We want quick access to the text and only a short time to consider what can't be done," Burnett says.
And that's all they have time for. "Nightmares" runs Friday and Saturday night. Then the Buran Theater company is off again, headed for Albuquerque and a June 7 and 8 engagement that will give them only about eight days to rehearse.
"We're always reaching for the impossible," Burnett says.