Sometimes, when a certain song comes on, you don't know whether to dance or to cry. Pale Hearts aims to give people a little something for both urges.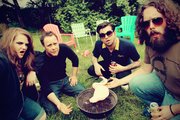 If you go
Pale Hearts will play an album release party at 10 p.m. Friday at Frank's North Star Tavern, at 508 Locust St. JOCKS, a band featuring members of Lawrence acts Dry Bonnet, Rooftop Vigilantes and Mouthbreathers; Detroit band Fake Surfers will also be on the bill. Cover is $3.
The Lawrence rock quartet has finished its debut album, "Hollowtown," a nine song collection that funnels joy, pain and a few other points on the map of the human experience into rock 'n' roll.
"A friend of mine said it was darkly pretty, which I thought, 'I don't know what that means. I'm not normally associated with anything pretty unless it's pretty upsetting,'" vocalist Rob Gillaspie said with a laugh when asked how he would describe the record. "Some of the songs you can dance to, some of 'em you can hang yourself to. And all the points in between."
Whether dark, pretty or other adjectives chosen to describe the debut effort, it was a personal, homegrown affair. The band recorded all of the songs it had written in its year-plus of existence in a Lawrence bedroom with drummer Mike Young serving as producer and engineer. His bandmates are quick to give him credit for the quality of the final product.
"I think it worked out really well because I knew these songs going into it, they respected my input a little bit more than just somebody else coming into the project, not knowing what was going on," Young said. "It was like, knowing the songs beforehand really helped out, with having a voice and having another opinion as opposed to somebody else that was just working on it just work on it. To earn a buck."
The band will officially release the record at a party Friday at Frank's North Star Tavern in North Lawrence.
Gillaspie, who has played in numerous bands across town over the years, said "Hollowtown" was a painful yet fulfilling project personally. While he's been known for wild stage antics such as breaking bottles on his face, wearing ridiculously revealing stage attire and general chicanery, he calls the work with Pale Hearts the most mature, but still most fun work he's done.
"Of all the stuff that I've ever recorded with any band, this is what I'm most proud of. I don't want to make it sound like it's the end of my musical career, but it's kind of like the capper of the old portion of my career and the start of kind of more expansive part of it," Gillaspie said. "I just think it's a really solid rock-and-roll album. It doesn't sound like anything any other band in Lawrence is doing right now."
Perhaps the album was satisfying for its creators because that old adage about all the best songs being about pain, heartbreak and misery proved true.
"2012 was a bad year for me," Gillaspie said. "There was homelessness, jail time, drug addiction, a divorce, a suicide, everything. This band and my current relationship were the only positive things that came out of it, and I funneled everything into the lyrics on this album. It's a dark piece of work, but it was very medicinal. I'm glad to have it out of my system; it came from the place I think the best art comes from."
But whether the listener chooses to focus on the danceable songs or the painful tracks, the band is happy with its debut effort and thinks people will enjoy it, whether they've never heard of Pale Hearts or whether they've been going to the band's shows since the beginning.
"I think they'll really like it," bassist Melinda Robinson said. "Mike did a really good job of transferring some of the rawness of our live shows to an album that's really well-put-together and just really true to the band that we are. Definitely worth it."