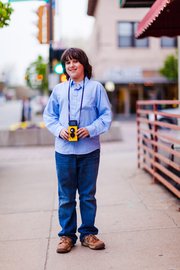 Name: Gabriel Barbosa
Age: 11
Hometown: I was born in Mount Pleasant, S.C., but consider Lawrence my hometown since I've lived most of my life here.
Time in Lawrence: Since I was 4
Favorite classes: Reading, photography and technology
Dream job: A photographer that specializes in portraits and special effects
What were you doing when scouted: Taking pictures with my camera
Describe your style: I normally dress in light and button-up shirts. Sometimes I wear a tie. I'm more a casual guy.
Fashion trends you love: I sort of like fancy and casual things.
Fashion trends you hate: The only thing I feel kind of awkward with is people in gothic black shirts. I just feel weird around them.
Fashion influences: I just think of myself. I just think about looking good when I go out.
What would you like to see more of in Lawrence: I'd like to see more art and style. I don't want all this industrial stuff. I like things to be a little bit more "green" in the world.
Less of? I can't think of anything I don't like here. It's perfect.
Whom do people say you look like? I used to look like Justin Bieber, people said, because I had this really wacked-out haircut when he had this big head. Now, I'm just not like that. I just like to have my own style.
What type of music do you unwind to: I like '60s and '70s rock and roll.
Tell us a secret… I like Camilla! I can't believe I said that! I'm so embarrassed I said that!
More like this story on Lawrence.com