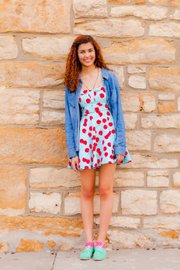 Name: Olivia R. Gutierrez
Age: 13
Hometown: Phoenix
Time in Lawrence: Four years
Favorite classes/subjects: Science and yearbook
Dream job: To be happy! I'm a photographer, so maybe something in front of and behind the camera.
What were you doing when scouted: Just came back from the park.
Describe your style: I don't think I really have a style. I kind of mix and match things. I do like color, things that are cute and also to be comfortable.
Fashion trends you love: I really love the bohemian style, long dresses, retro-ish, high-waisted and pin-up styles.
Fashion trends you hate: Athletic styles like sweat pants.
Fashion influences: I get them from magazines that I flip through that help me mix and match things together.
What would you like to see more of in Lawrence: I like Lawrence the way it is.
Less of? I really don't know.
Tattoos or piercings: My ears are pierced.
Whom do people say you look like? I never really had people say I look like someone.
What type of music do you unwind to: I love indie, alternative and rock music.
Tell us a secret… I secretly want to be a gymnast.
More like this story on Lawrence.com