When you've worked hard, scraped, clawed and crisscrossed the globe to get to a place where you're finally successful, chances are you're going to mix your impulse to celebrate with the tenacity you showed in sticking with it.
Japandroids, the Vancouver-based two-man rock band, were just about to call it quits when their music started to catch on. They've been touring the world essentially nonstop for the last five years and reveling in every minute of it. They're in the middle of a nearly two-year tour in support of their second full-length album, "Celebration Rock," and will play Wednesday at the Granada. But while guitarist Brian King and drummer David Prowse were in a celebratory mood, not everyone around them was.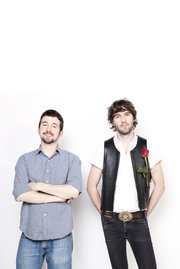 If you go
Japandroids will play at 9 p.m. Wednesday at the Granada with A Place to Bury Strangers. Tickets are $15 in advance and $17 at the door.
"I came up with that title ("Celebration Rock") because I thought it was just very straightforward and very kind of obvious. Once I thought of that, it was impossible for me to come up with anything better than that," King says. "You know, being that I play celebratory rock and roll music. So 'Celebration Rock' is just a natural fit for what the record actually is."
There was some pushback among the band's management about the title, thinking they should stick with a more tongue-in-cheek approach as they did with their debut full-length "Post-Nothing" and early track compilation "No Singles." But King and Prowse stuck to their guns and have been celebrating with shows noted for their infectious energy and loud sound despite the fact there's only two of them on stage.
"Celebration Rock" has been a critically acclaimed smash since it was released in May of last year, earning a Best New Music designation from Pitchfork and making Rolling Stone's list of the top 50 albums of 2012. The single "The House That Heaven Built" is even being used by the Vancouver Canucks NHL team to play as their entrance theme.
While being a two-man band wasn't originally the goal, Japandroids haven't let a lack of manpower keep them from sounding how they wanted from the beginning. Minimalist is an oft-applied adjective to two-piece bands and all other manner of art these days, but the guys proudly proclaim themselves as a maximal outfit.
"We were just trying to sound like five-person rock bands that we liked and wanted to see. So we wanted our record to sound like a Replacements record or something. Because that's what we were into," King says. "And so every attempt was to get ourselves away from that minimal sound despite the fact that we only had two people. So that was probably the biggest difference. I don't think we have any crazy or modern or innovative musical ideas. We're just a rock and roll band. I think it's just that attempting to sound like a five-person band, despite only being two people, is what ended up giving us the sound that we have."
And other than the simple black-and-white album covers and relatively small number of tracks per record, there's been nothing minimal about what Japandroids have done in the last several years. Their songs sound like the combination of every good memory of a youthful summer polished up and condensed into a four-minute blasting rock song. King and Prowse trade vocals while hammering away on tunes about good times, girls and "yelling like hell to the heavens."
Right about the time they were ready to call it quits, the world started taking notice. They had put what they thought would be their last recordings online, and the songs caught on. It was at that point that King and Prowse decided to record a full-length debut. That led to a tour not only of their native Canada but also the United States and Europe. Being so close to dissolving, they weren't about to take the moment for granted. In fact, they were so caught up in it the future had to wait.
"The whole time we were touring on our first record we never even talked about (a second album)," King says. "There was no plan. For all we knew we were just going to do this one, and it was always very short-term thinking about 'let's just worry what's gonna happen next week or next month. Let's just enjoy it while we can.'
"And so finally, when we finished touring, we did 250 shows in almost two years touring on our first record, and we got home and we realized how much we loved what we were doing and how we wanted to try to hold on to that for as long as possible. And so then it became a conversation of 'let's make another record.' Because we want to play shows and we want to tour more, and the best way to do it is to make a new record and go and do it all over again. So we did."
But the formula's success doesn't mean the guys have established a rigid business plan in which they record an album and tour every two to three years. Once this trip is done and there is no more trekking to do across Europe, Australia or points in between, King says he and Prowse will once again have to make a decision about their future. But for now it's just too much fun to worry about anything but rocking the present.
More like this story on Lawrence.com