Did you know you can take the train from Lawrence to Kansas City?
It's not the most versatile method of transportation, as it leaves each day at 5:47 a.m., arrives at 7:24 a.m. and costs $19 ($239 for a sleeper car), but it would be a nice break from the highway.
The Southwest Chief departs Kansas City each night at 10:45 p.m. and arrives in Lawrence at 11:52, making it a feasible option for either a day trip to the big city or a nocturnal outing in Larrytown.
Whether or not you arrive there via Amtrak, Kansas City's Union Station is a worthwhile destination of its own, with a number of gastronomical and entertainment options.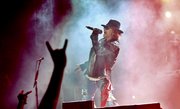 Simply walking around the grand hall and testing out the acoustics is fun, but why stop there?
Some of the best coffee in the city is served at the Parisi Café, a chic little outpost where the local micro-roaster's products are served in a variety of forms, including pour-over, French-press, iced and more. The cafe is open from 7 a.m. to 6 p.m. weekdays and from 8 a.m. to 6 p.m. on weekends.
If you want to settle in for a nice dinner, try one of the aged steaks at Pierpont's, a classy establishment that also specializes in seafood. The restaurant exists harmoniously in the building's historical space, and it's a fun place to impress an out-of-town guest, especially if you receive an unexpected windfall.
Another atmospheric dining option is Harvey's, open from 7 a.m. to 3 p.m. during the week and from 8 a.m. to 3 p.m. on weekends. The food is tasty and reasonably priced, and if you're feeling fancy try the Sunday brunch. It's $19, but it's worth it for the stuffed crabcakes alone.
Culture: Festa Italiana
At Zona Rosa, the outdoor shopping and residential area near Barry Road in North Kansas City, the annual Festa Italiana celebrates the food, culture and music of Italy. The Festa starts at 5 p.m. Friday and continues until Sunday at 6 p.m. See a full lineup of performers at zonarosa.com.
Sports: Royals vs. Cardinals
The I-70 Series returns to Kauffman Stadium for a two-game series with the St. Louis Cardinals on Monday at 1:10 p.m. and Tuesday at 7:10 p.m. Fans' spirits are flagging after the Royals dropped below .500 last week, but nothing reinvigorates the home crowd like a chance at sweeping the rival Cardinals. Ticket options at 1-800-6Royals.
Sports: Sporting KC
On Tuesday, Sporting Kansas City begins its campaign to repeat as U.S. Open Cup champions with a 7:30 p.m. match against the Des Moines Menace. While the Menace is an amateur squad with nowhere near the firepower of the MLS-level Sporting KC, the game will provide some lesser-used home players with some playing time and likely give fans a chance to bathe in the goal-celebration confetti.
Concerts this week
There's plenty of good music to go around this week as well. At 10 p.m. Wednesday, garage rock cover act The Detroit Cobras brings its rotating cast of motor city rockers to the Record Bar for an 18-and-over show. Tickets are $12 plus fees.
Experimental jazz fans should take advantage of the rare performance by Kansas City ensemble The Malachy Papers, led by saxophone colossus/horn sculptor Mark Southerland on Thursday. Also performing that night at the Brick will be progressive New Orleans guitarist Cliff Hines. The show begins at 9 p.m. and there will be an $8 cover.
And last but not least, Axl Rose will bring his modern-day incarnation of Guns N' Roses to the Midland next Sunday for the band's most intimate KC show yet. Reviews of Axl's performance at the Sprint Center last year were positive, but it'll still never be as cool as if I had been allowed to attend GNR's billing with Metallica in 1991. Why? In those days, Axl's piano bench was shaped like a motorcycle. Also, I was 11. Purchase tickets for the 10 p.m. show at Midlandkc.com.
— Lucas Wetzel is a writer and editor in Kansas City, Mo. Know of an upcoming event in Kansas City you'd like to see featured in Kansas City Connection? Email us about it at kcconnection@ljworld.com.