I remember vacations as a kid when I didn't even have to pack for myself; those were the days. Now, prepping for a vacation involves a lot of stress and endless hours of outfit planning because, let's face it, a girl must have options.
After several instances of realizing I left behind essential items at the arrival of my destination, I'm finally taking my dad's words of advice to make a list of everything you need to pack.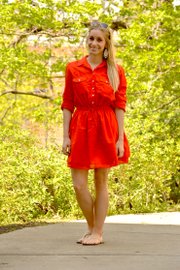 I'm not ashamed to admit I make a detailed list of everything I need to pack; including outfits.
Unfortunately, I won't be taking a lavish vacation this summer, but my sister will be taking a two-week cruise through the Mediterranean so I can vicariously live through her as I explain her must-haves for the trip.

Beachwear
An obnoxiously large beach hat is a must, especially if you're going to a beach. You could also go for a fedora if big beach hats are too forward for you.
Just make sure you buy a hat with a lightweight straw construction to keep you cool. Save your wool and felt hats for winter.
I love fedoras or beach hats with a colorful trim because that's great for summer.
Whether you like one-pieces or bikinis, go bright this summer. Colorblock swimsuits in bright hues are right on trend for the season.
You can't face the sun without a cool pair of shades. I used to buy cheap pairs of sunglasses because it would never fail that I misplaced or broke them. I take better care of my sunglasses now, so I like to invest in higher-quality sunnies. Currently Madewell, Ray-Ban and Karen Walker are my favorite brands. I'm also obsessed with the tortoise frames because it's an easy way to add a fun print to your look.
The perfect pair of flat sandals should definitely be on your packing list. Make sure they are super comfortable and, as always, stylish. I like neutral colors because they go with anything.
Bags
The perfect bag is an essential piece for fabulous vacation style. I love tote bags for vacations because they are big enough to carry everything you need when shopping or just walking around exploring. A classic black or a neutral color will go with anything, so I would advise going for an understated color.
Another great style is a crossbody bag, which is also convenient for shopping and walking long distances.
Daywear
Long maxi dresses or cute shirtdresses are always on my must-have list for vacations. I call them my all-in-one outfit because they are a no-fuss one-piece that you can throw on and walk out the door.
Slip on a pair of strappy sandals, flats or wedges, and you're good to go for an afternoon of navigating your new environment.
Comfort is key, so find a dress with lightweight and soft fabric so you don't have to worry about being uncomfortable.
— Emily Kennedy is one-half of the stylish duo behind The Fashion Column blog she shares with her twin sister, Elizabeth. Emily can be reached at fashioncolumnblog@gmail.com.
More like this story on Lawrence.com