Photo Gallery
Songdo mural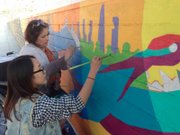 Sometimes, nothing reminds us what a small world it is quite like a collaborative public art project.
Songdo, South Korea, was built from the ground up and opened for business in 2009. Hailed as the city of the future, it's an aerotropolis — purposely positioned near Incheon International Airport — where green buildings and sustainable infrastructure are mandatory, and movers and shakers are expected to solidify its spot as a global business hub.
Against the city's modern, concrete-and-steel-heavy architectural landscape, a shot of color from a brand-new outdoor mural really pops.
If "A City on the Rise" looks similar to something you'd see on the side of a building in Lawrence, there's a good reason.
Here's how artists, students and teachers reached halfway around the world from Lawrence to Songdo to make it happen.
Long way from home
Vanessa Vanek grew up in Lawrence, graduated from Kansas University and taught art at Topeka High School before she "went international."
After three years in Bangkok, she got a job teaching art at Songdo's Chadwick International School in 2010. The fledgling school in the fledgling city is a sister school to Chadwick School — a prestigious Los Angeles day school with a handful of celebrity alums — and leaders encourage collaboration between the two.
Vanek had an idea.
In 2005, her Topeka High art students collaborated with Lawrence muralist David Loewenstein on the Aaron Douglas Mural in Topeka. Maybe he would do a project in Songdo?
Vanek had no idea whether Loewenstein was still in Lawrence or even still an active muralist (he is). But on a trip back to the States last summer, she asked around. Soon, she and Loewenstein were discussing the idea over coffee.
'Not just a conversation'
Loewenstein has painted murals in Lawrence, all over the United States and in Northern Ireland, where he collaborated with five schools — some Catholic, some Protestant — on artwork in 2000.
Collaborating to create a mural in South Korea was going to be tricky — especially since Songdo's governing body wanted to approve the design before Loewenstein would have a chance to visit the site, Songdo Central Park.
Enter modern technology.
Through email and Skype, Loewenstein asked Vanek and her students — plus several from California who flew in to take part in the planning process — to talk about the iconography of Korea, define Songdo's importance as a green city and physically act out the core values of their school. Vanek sent Loewenstein photos of the students' gestures, as well as their color studies and sketches of mural designs.
The students' first video chat with Loewenstein was early, at 7:45 a.m., but 18 students were present and "pumped," Vanek said.
"They just loved the idea that they were meeting this professional working artist, a mural artist that does this for a living," she said.
Loewenstein incorporated the students' ideas and gestures into a sketch, with a crane carrying the Songdo skyline on its wings as the focal point.
"The process is a way of engaging people about issues and issues that concern them, and, often times, heritage or visioning of what they want to see happen in the place that they live," Loewenstein said. "It's nice because it's not just a conversation, it's all pointed toward the creation of this artwork."
Handing them a brush
With the design approved, Loewenstein and his assistant Ashley Laird flew to Songdo at the end of April for a week of painting, and that's when even more people got involved.
Loewenstein, Laird, Vanek and the Chadwick students outlined the mural onto the wall and began to fill it with vivid splashes of yellow, turquoise and blue. Curious passersby from small children to senior citizens stopped to talk, Loewenstein said, and "we usually handed them a brush, if they were willing."
Songdo dignitaries, developers, students, parents and Chadwick International School, which funded the project, all were represented at the mural's dedication ceremony April 29, when Loewenstein, Laird and Vanek helped unveil the new work.
"Having come from Lawrence, I've seen how art can impact a community in powerful ways," Vanek said. "The whole idea of this mural at the beginning, for me, was how could we connect our students to the city of Songdo? ...This process did become about the community of Songdo."
Besides its modern architecture, Loewenstein said Songdo is home to wonderful public sculptures and "exquisite" landscaping, but there's nothing quite like the new mural.
"For sure our little painting stood out as something that looked like it had a little more human touch to it," Loewenstein said. "We were thrilled that IFEZ (Incheon Free Economic Zone) and the city of Songdo would let us do this there."
More like this story on Lawrence.com