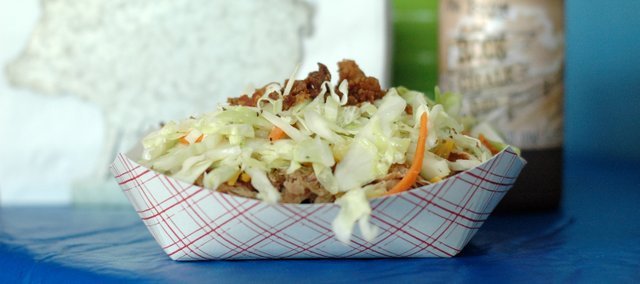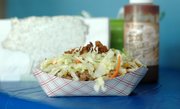 Jeff Frye conjured up his idea for the Pig Pie during a night out with friends at 23rd Street Brewery. Once he deciphered all the notes he'd scribbled on little yellow pieces of paper, he knew he was on to something.
Frye calls his Pig Pie a "perfectly balanced meal in a boat." It's a paper carryout boat filled with layers of most everything there is to love about barbecue restaurants: pulled pork, Fritos, barbecue beans, shredded sharp cheddar cheese, Frye's Rock Chalk Red barbecue sauce, sweet-and-spicy coleslaw (it's fresh and crispy, no mayo) and — his business's signature ingredient — bacon.
Where to get it: Mr. Bacon BBQ, 846 Illinois St. — but there's a small weekly window of opportunity. Mr. Bacon is primarily a catering company but sells to-go orders from 11 a.m. to 1 or 1:30 p.m. on Fridays. To catch their "pop-up" operation at a public event, watch their Facebook page.
What you'll pay: $7
Try it with: This dish already contains pretty much everything but the kitchen sink. If anything, squeeze on a little extra barbecue sauce.
Also on the menu: Pulled pork or brisket sandwiches, weekly specials and other barbecue dishes, including the fan-favorite barbecue burrito with pork and slaw.
— Off The Beaten Plate highlights some of the more exotic, oddly named or inventively concocted (for better or worse) dishes from local menus. Know of an offbeat menu item we should check out? Email food and features reporter Sara Shepherd at sshepherd@ljworld.com. Tweet her at Twitter.com/KCSSara.