This month's Final Fridays not only offers wonderful art but also gives participants an opportunity to catch up on what people and companies are up to.
Treanor Architects opening
The public is invited to an open house from 5-9 p.m. to see Treanor Architects' new home at 1040 Vermont St. The firm, which had been located on McDonald Drive for over 16 years, moved to its downtown space just after the new year.
"It's incredible to be here," says Nadia Zhiri, Treanor principal architect. "We all feel so much more connected to Lawrence."
The building's transition from car dealership (it was once home to Dale Willey Automotive) to architecture firm was a long time in the making, with discussions beginning in early 2008.
"You remember what happened then," says Zhiri, referring to the stock market drop and the largest downturn in the U.S. economy since the Great Depression. "We decided that it just wasn't the right time to make the move."
As the economy began to pick up, and because the building was still available, Treanor decided it was time to revisit plans to move. But even then, the process was not without obstacles.
"If you can imagine a group of architects all agreeing on one design!" Zhiri says with a laugh. "But we all learned that we couldn't have everything we wanted."
What Treanor employees did get was an open space much of which was built with reclaimed wood, a work environment with plenty of natural light, and an office with its own "cafe."
In addition to seeing the newly designed space, visitors can look at some of the projects the firm is working on, including the hotel at Ninth and New Hampshire streets. Treanor's new building has a gallery space and plans to open its doors occasionally for Final Fridays to showcase the artwork from some of the creative people who work for the firm.

The ribbon-cutting ceremony is scheduled for 5:15 p.m.
Photography
Final Friday visitors will also be able to check up on the work of Kansas University professor John Hachmeister who recently returned from a two-month stay in Jingdezhen, China, a city known for its 1,700-year history with porcelain production. Hachmeister will show photographs of his visit to the Sanbao Ceramic Art Institute at the 313 Studios, 313 E. Eighth St.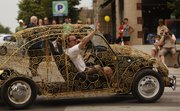 The other artists housed at 313 will also be showcasing their work, including photographer Racheal Major and her business, Atomic Photography. Atomic is celebrating its first anniversary at the location from 6 p.m. to 9 p.m. with a gallery showing, a special viewing of its Space Girl Show and even a disco ball.
Also at 313 Studios, Grace Peterson and Local Color will be displaying a collection of wire cars created by her students and inspired by the work of Detroit artist Chido Johnson, who was born in Zimbabwe, and who was a visiting artist at KU when Peterson met him.
"He used to talk about making toys with whatever he could find lying around his village," Peterson says, "including wire." Peterson's studio will offer a wire car workshop annually in conjunction with the Art Tougeau Parade.
"These wire cars are like puppies," Peterson says. "Once people see them they want to have their own."
Art Tougeau
Friday night is also Art Tougeau's kickoff festivities in the 900 block of New Hampshire Street.
Several decorated cars will be on display, and children will be able to race small cars dipped in paint down a ramp as well as paint their own cardboard car creations. The parade, which is now in its 16th year, will be held at noon Saturday in front of the Lawrence Arts Center, 940 New Hampshire St.