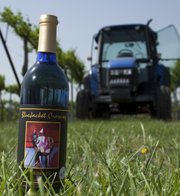 If you go
Instead of the typical national best-sellers, expect more regional grape varietals like Seyval, Vignole, Chambourcin, Cynthiana and Concord at Winesong at Riverfest.
The event is from 4 to 8 p.m. June 8 at De Soto Riverfest Park, 33440 W. 79th St. in De Soto. Tickets are $20 and must be purchased in advance online at winesongatriverfest.com.
The following 15 Kansas farm wineries are expected to provide tastings at this year's event.
BlueJacket Crossing Vineyard and Winery, Eudora, bluejacketwinery.com
Davenport Orchards and Winery, Eudora, davenportwinery.com
Grace Hill Winery, Wichita, gracehillwinery.com
Holy-Field Vineyard and Winery, Basehor, holyfieldwinery.com
Jefferson Hill Vineyard and Winery, McLouth, jeffersonhillvineyard.com
Kugler's Vineyard, Lawrence, kuglersvineyard.com
Middle Creek Winery, Louisburg, middlecreekwinery.com
Nighthawk Vineyard and Winery, Paola, nighthawkwines.com
Renaissance Cellars, St. Marys, renaissancecellars.com
Rowe Ridge Vineyard and Winery, Kansas City, Kan., roweridge.com
Somerset Ridge Vineyard and Winery, Paola, somersetridge.com
Stone Pillar Vineyard and Winery, Olathe, stonepillarvineyard.com
Wine Barn Winery and Vineyard, Kansas City, Kan., winedottebarn.com
Wyldewood Cellars, Paxico, wyldewoodcellars.com
White Tail Run Winery, Edgerton, whitetailrunwinery.com
Patrick Guilfoyle likens the inaugural Winesong at Riverfest event to a black hole, in both a good and a bad way.
Last year's wine festival had one tent for 14 wineries, a single food station and the live music — and a crowd so much larger than expected that organizers had to turn away 400 to 500 people an hour and a half into the four-hour event.
When the "floodgates" opened, Guilfoyle said, "people literally were drawn like an uncontrollable magnetic force to the tent, and we stuffed the sardines in the can."
Organizers learned two big lessons, Guilfoyle said: People — a lot of people, it turns out — are interested in trying Kansas wine; and in order to accommodate them, the event needed some major tweaking.
The second Winesong at Riverfest — a wine-tasting event featuring exclusively Kansas farm wineries — is planned for 4 to 8 p.m. June 8 at De Soto Riverfest Park, 33440 W. 79th St. in De Soto.
"We just dramatically changed the event, and we got bold enough to expand some of our investment in it," said Guilfoyle, event co-chairman, De Soto city administrator and Kansas wine fan.
Here's what to expect this year:
• Tickets won't be sold at the gates. They must be purchased in advance through the Winesong website, winesongatriverfest.com. Attendees must present a photo ID showing they are at least 21 to be admitted. Each $20 ticket covers a souvenir wine glass, 10 complimentary wine samplings of your choosing and an assortment of appetizers.
• Ticket sales will be capped at 2,000. Last year, gates were closed after 1,500 people, which was 500 more than the first-year goal for the event.
• More tents are planned to spread out the crowd. There will be three tents instead of one for guests, and additional tents for this year's 15 participating wineries. Instead of one food station, there will be six.
• There will be more live music and more art. Three musical groups — Cathy Hunt Trio, Mistura Fina and Rod Fleeman and Dan Bliss — will play simultaneously, one in each guest tent. Last year's event featured 10 artists displaying and selling work, and this year organizers invited 25.
• Picnics are welcome. Not only will guests be allowed to pop the cork on bottles of wine purchased at the event, they'll also be allowed to bring in their own food to enjoy in addition to the provided appetizers. If you want to sit outside the tents, don't forget the lawn chairs.