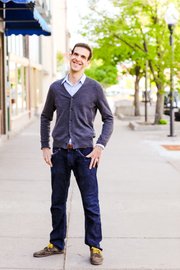 Name: Mark Landau
Age: 35
Relationship status: Dating
Hometown: Rome, N.Y.
Time in Lawrence: Six years
Occupation: Professor in the psychology department at KU.
Dream job: Besides being a professor, it would be making dulcimers.
What were you doing when scouted: I was sketching and drawing.
Describe your style: I find a couple of classic pieces and rearrange them in slightly new ways or with slightly new touches while keeping them pretty basic and understated.
Fashion trends you love: Slimmer cuts for men's clothes and nice shoes.
Fashion trends you hate: Ironic T-shirts, Crocs and cargo shorts for men.
Fashion influences: I like sites like the Sartorialist and Mr. Porter. It's nice to see those examples and go to your closet to see if you can replicate or simulate them with what you have. I try to avoid trends so that I don't buy stuff that's outdated a few months later. I try to stay basic.
What would you like to see more of in Lawrence: Recycling, good pizza slices and more interesting, easily accessible and creative volunteer opportunities. I think there is a lot of creative energy out there, and that there are a lot of people out there that want to make a difference.
Less of? Fewer motorcycles with deafening engines going up and down Mass. Street way too loud.

Tattoos or piercings: None.
Who do people say you look like? The guy from "The Breakfast Club."
What type of music do you unwind to: Singer/songwriter stuff like Nick Cave.

Tell us a secret… I'm deathly afraid of slugs.