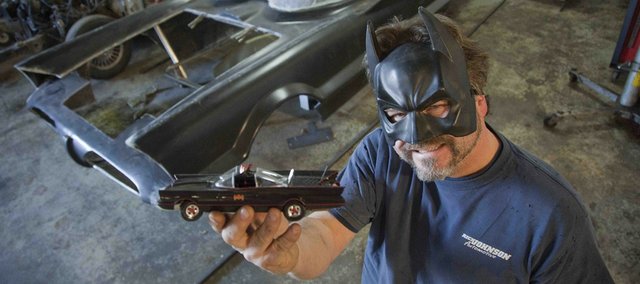 Rich Johnson isn't crazy about the Batman TV show. He doesn't obsess over the classic 1960s series or own a Batman cape or suit.
What Johnson does obsess about is restoring cars, and what he does own is a replica Batmobile — which he built by himself and plans to drive in Saturday's Art Tougeau Parade in downtown Lawrence.
"I like Batman but I'm not a Batman junkie," Johnson said. "I just love the car."
Johnson, who owns Rich Johnson Automotive, at 1410 N. Third St., has built and restored cars for 25 years. His inspiration to build his own Batmobile came from an unlikely place: not the Batman series or movies, but from the 2011 movie "Rockstar." He saw one of the characters driving the car in some of the scenes and knew instantly that he wanted to do the same.
"I just thought, 'I gotta have one of those,'" Johnson said.
Bang! Pow!
As soon as the idea was in Johnson's mind, he began scouring the Internet for a Batmobile to buy. In August he found a fiberglass replica shell for sale for $7,000 by a man in Dayton, Ohio. Johnson put a down payment on the body of the car in September, and in late October he nervously drove to Ohio, worried he had fallen into a scam. To his surprise, the shell really existed. He loaded it into a trailer and headed back to Lawrence, ready to begin building his dream Bat-car.
"I've heard a lot of people say, 'that's just a lot of work,' but when you love something, it's not work," Johnson said.
Johnson said he spent about 750 hours creating the car, which is built on the frame of a Lincoln Town Car. He worked on it evenings and weekends since Thanksgiving, but he easily spent another anywhere from 300 to 400 hours researching how to do it. He searched through photo galleries of other Batmobiles online and stared at pictures of a Batmobile he saw in person to figure out how to make certain parts for the car and to be sure he didn't forget any small details.
"I didn't come up with the concept (of the Batmobile), it's just my version of it," Johnson said. His total cost? That's a Bat-secret.
Holy replica, Batman!
The original Batmobile, which was custom-built for the 1960s television series, sold for $4.2 million at an auto action in January.
Johnson says his version is almost identical — at least on the outside. He included an antenna to mimic a laser beam, which in the TV series would pop up in the front of the car to cut holes through doors. He also installed rocket tubes on the rear of the Batmobile and placed lights inside them to make them look red-hot.
"It's awesome. I think he outdid himself," said Stephen West, one of Johnson's customers. "It's just like on TV when I was a kid."
Johnson said he plans on adding a flamethrower to the back of the car, and still has to carpet the interior. His main concern, however, was building his Batmobile to be strong and durable enough for the community to appreciate it, rather than creating a fragile show car.
"My idea is for people to have fun and enjoy this," he said. "Something that's made me really happy is to see how people react."
Art Tougeau
Johnson plans on driving the Batmobile in the Art Tougeau parade Saturday afternoon to introduce the car to the community. The parade, which will be filled with moving pieces of artwork such as cars and bikes, begins at noon.
The parade will begin in front of the Lawrence Arts Center at 940 New Hampshire St. It will travel south down New Hampshire Street to 11th Street, then right to Massachusetts Street. It will follow Massachusetts Street to Seventh Street and then turn back toward the East 100 block of 10th Street. It will stop just south of the Replay Lounge for an awards ceremony, which is scheduled to begin at 1:30 p.m. A post-parade block party will begin at 2 p.m. and last until 5 p.m., with food, drinks and music.
If the weather is nice, the Batmobile will be on display Friday night during the pre-parade Painting Block Party in front of the Lawrence Arts Center. The block party will include painting, food and live music from 5 p.m. to 9 p.m. Friday in the 900 block of New Hampshire Street.
More like this story on Lawrence.com