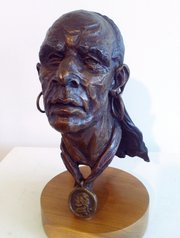 A bronze bust by artist Jim Brothers isn't the only recent case of a sculpture being stolen from area galleries or public locales.
The person who took the Brothers piece — and his motives — remained unknown, as of late last week. But the perpetrators in a few other thefts apparently were looking to cash in by turning the artworks into scrap metal.
They had varying levels of success.
About a year ago, a 10-foot-tall bronze by Jim Bass, a Topeka artist who also created "Prairie Formation" near Blake Hall on the Kansas University campus, was stolen from outside a Topeka church.
Bass said he calculated what a scrap yard might pay for the piece, called "The Forgiven Man," and the church set a reward higher than that, $2,000. It worked — but Bass had to repair the sculpture before it went back on display. He said the thieves made several cuts, presumably attempting to dismember and sell the artwork for scrap.
"I was just lucky that mine was so big and so difficult to cut up into pieces," Bass said. "But a $40,000 sculpture — that's still better than having to rebuild from scratch."
"Pioneer Woman," which until June stood outside the National Frontier Trails Museum in Independence, Mo., wasn't so fortunate. The people who stole the 6-foot bronze were caught and charged, and the sculpture was recovered — in pieces.
The thieves cut up the sculpture and tried to sell it at a scrap yard, where staff noticed a bronze hand, refused to buy the metal and notified police, according to Kansas City media reports. "Pioneer Woman" was valued at $75,000, and the museum has commissioned an artist to create a new sculpture to replace it.
Ordinances help
City ordinances governing scrap metal dealers can help thwart and catch people trying to sell stolen goods, which occasionally include art.
In Lawrence, scrap metal dealers must record transactions and collect identifying personal and vehicle information from anyone being paid more than $50 for regulated metals.
About a month ago, someone brought an intact bronze bust into Lonnie's Recycling at 501 Maple St., manager Richard Rose said. An employee, assuming the sculpture was valuable and suspicious, offered the seller $5 for it — which he took. The employee and Rose locked the sculpture in the office and called police, who returned it to its rightful owner.
While Lonnie's didn't take down personal information for the low-dollar sale, the employee did write down a description of the man for police.
"We're interested in making money, but we also are not interested in drawing attention to ourselves as being the people that buy stolen stuff," Rose said. "We want it all above board."
Reward offered
The Brothers sculpture was stolen from Signs of Life, 722 Massachusetts St., sometime between the afternoon of Oct. 23 and the evening of Oct. 24. Signs of Life owner Clay Belcher filed a police report that night.
Created in 2008, "Makataimeshekiakiah, Black Hawk of the Sauk and Fox," is about a foot tall and 8 inches wide, according to Kathy Correll, co-owner of Brothers' studio and the wife of the artist, a world-renowned sculptor who died in August after battling cancer.
"Makataimeshekiakiah" is one of a kind, unlikely to be replicated because the mold for the piece has been damaged, Correll said. "There are no other castings in existence."
The sculpture, owned by Brothers' studio, had been displayed at Signs of Life for two years and was listed for sale at $2,200.
Correll hopes that the piece will be recovered. But she said Brothers had several other sculptures stolen over the years, none of which ever turned up.
"Fortunately it's not something that happens very often, but it does happen," Correll said. "I guess that's a risk that anyone takes in putting artwork or any other object on public display."
Signs of Life is offering a $500 reward for information leading to the recovery of "Makataimeshekiakiah." The gallery's number is 830-8030. Anyone with information about the theft also can call the anonymous TIPS Hotline, 843-TIPS (8477).