Tuesday, November 5, 2013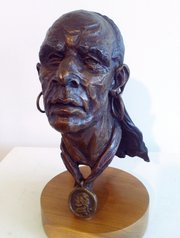 A bronze sculpture stolen from a downtown art gallery was returned today.
A woman told Signs of Life gallery owner Clay Belcher she saw a story and photo in Monday's Journal-World and recognized the sculpture, which she said an acquaintance had left in her garage with a number of other items.
Lawrence police officer Jon Barta spent Monday following up on about half a dozen tips, including the one that led to the missing artwork, said Sgt. Trent McKinley, the department's public affairs officer. Barta picked up the sculpture from the woman's home this morning and returned it to the gallery.
The man suspected of stealing it is currently jailed on unrelated charges, McKinley said. He said police planned to interview the man about the sculpture. He had not been charged in the theft as of this afternoon.
"Makataimeshekiakiah, Black Hawk of the Sauk and Fox" disappeared from Signs of Life, 722 Massachusetts St., Oct. 23 or Oct. 24. The artist, Jim Brothers, was a Lawrence resident and world-renowned sculptor who died in August after battling cancer.
"Makataimeshekiakiah," a bust measuring about 12 inches tall, had been displayed at Signs of Life for two years and was listed for sale at $2,200.