Thursday, November 7, 2013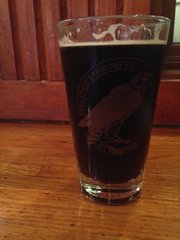 I'll be the first to admit that as much as I enjoy beer, I'm a complete amateur. When I was instructed to go to Free State Brewery and try the Black Snake, I had no idea what to expect, but I hoped the drink would look threatening and ominous. No letdown there.
The bartender poured the Oatmeal Stout (black) into the Copperhead Pale Ale (snake, get it?), which produced a rich black mixture in a classic pub glass. The rich malty flavor from the stout combined with the citrusy full-bodied flavor of the pale ale makes for an off-menu concoction that gives you the best of both beer worlds.
The hard stuff: Oatmeal Stout and Copperhead Pale Ale.
Where it's served: Free State Brewing Company, 636 Massachusetts St.
What it costs: $4 for a 14-ounce pub glass.
Other libations at this location: While they serve tequila and single-malt scotch, I think we can all agree that beer is what we're really after at Free State. Brews include Wheat State Golden, John Brown Ale, Ad Astra Ale, Hop Jack Ale, Endeavor IPA and Nitro Cow Tippin. I'm told there are other word-of-mouth pours, so be sure to ask your bartender.
— Drink up. Stay classy. Don't forget to tip your bartender. And let us know if you want to suggest a libation for this feature — email nimafidon@ljworld.com or Tweet her at Twitter.com/nadia_imafidon. Cheers. PrintFavorite