Thursday, November 7, 2013
Make a little library
Want to participate in Logs to Literature's little free libraries project? An informational meeting and planning session is set for noon Nov. 16 at the Lawrence Creates MakerSpace, 512 E. Ninth St. Building workshops are expected to be scheduled in the spring.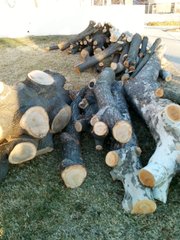 A new plan for trees cut down because they were in the path of the Lawrence Public Library renovation is like a chip off the old block: Turn the salvaged wood into little free libraries.
The Logs to Literature program is inviting community members to design and build the mini libraries — enclosed bookshelves on pedestals, often placed in front yards, from which neighbors and passers-by can borrow a book.
Initially, Logs to Literature organizers sought artists to create sculptures from the wood, which they salvaged from Seventh and Vermont streets last winter. Lots of people said they were interested, but only one actually turned in a formal proposal when the time came, said co-organizer Matthew Burke, associate professor of sculpture at Kansas University.
Logs to Literature needed to regroup.
When librarian Karen Allen asked about getting some wood for the library's teen group to make a little free library, Burke thought that idea — multiplied by dozens — would fit perfectly into his goals for Logs to Literature.
"This wood is a public asset," Burke said, "and whatever happens it has to remain beneficial for the public."
A global effort called the Little Free Library project encourages the creation of such libraries and, according to its website, has about 4,000 of them officially registered for its online map. There are a few — official or unofficial — in Lawrence.
Logs to Literature's plan is to create and then auction the finished products to benefit the library, Burke said. Hopefully mini-libraries will land in the hands of people willing to "curate" them, and there's enough wood to make quite a few.
No artistic experience? No problem, Burke said.
Anyone interested in building a library should attend A Nov. 16 informational and planning meeting. It's set for noon at the Lawrence Creates MakerSpace, 512 E. Ninth St.
Workshops to create the basic structures from patterns will take place in the spring, probably at KU where experienced woodworkers can supervise groups of library-makers. Then groups or individuals will be able to finish their libraries in creative ways.
"Once you have the structure built, it's just a matter of working with the elements to give the structure character," Burke said. "At that point it's just really up to the imagination."