Sunday, November 10, 2013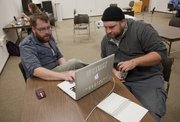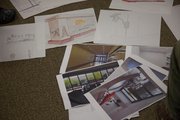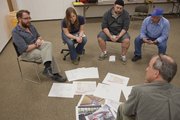 Starting with Joe Ralston's photo-like computer renderings of an imagined fountain inside the Federal Reserve Bank of Kansas City, the pile of papers on the floor begins to grow.
One student kneels down, fanning out pencil drawings of quilts hanging in a row. Another tosses in sketches of a third concept, a bookshelf inspired sculpture incorporating symbols of states from the bank's district. Talk of deadlines, presentations, cost, feasibility and project scope peppers the session.
This is a new art class at Kansas University, and the project isn't just an in-class assignment. Students are creating a commissioned sculpture for the bank.
KU associate professor of sculpture Matthew Burke is leading "Special Topics in Art: The Federal Reserve Commission," which will be offered each semester through fall 2014. Students' mission is to conceive, design and execute a work of art to commemorate the 100th anniversary of the bank, established in 1914.
Five students from a variety of disciplines are enrolled this semester. Some will continue next semester, and Burke hopes new students will sign on, too.
Pete Wolken of Ottawa, a metalsmithing major, said he saw a unique opportunity to learn real-world skills a working artist would need.
"It wasn't your standard class, it was the real thing," Wolken said. "Somebody wanted an actual sculpture built."
Sarah Podrasky of St. Joseph, Mo., a master's student in visual art education, also saw opportunity — to make public art and to practice art advocacy, an important part of art education.
"I was basically drawn to the idea of working with a community that was larger than just the school," Podrasky said.
The bank, located at 1 Memorial Drive in Kansas City, Mo., is decorated with a variety of original artworks from regional artists.
This is the first time the bank has tried this type of collaboration, said Kevin Wright, the bank's project coordinator for the effort. He said the collaboration is hoped not only to mark the bank's milestone but also to promote education, one of the bank's missions.
After consulting with professors and artists and looking at schools within the Tenth District of the Federal Reserve System, Wright reached out to Burke at KU.
So far, students have sketched more than 300 ideas and whittled them down to three concepts, the fountain, quilts or bookshelf sculpture. They will formally present their proposals to the bank in December.
By the end of this semester, presuming bank management accepts one of the proposals, the bank expects to make a decision on which to pursue, Wright said.
In addition to a learning opportunity, Burke said the class would be a resume booster for participants.
"These students in here will have it on their resumes as a major commission with a client that most people in America have heard of," Burke said.
He said in addition to creating a "really great work," the partnership was an opportunity to show how institutions like the Federal Reserve can benefit from teaming up with "creatives" like artists and students.
"They have skills in finance," Burke said. "We have skills in aesthetic storytelling."