Thursday, November 14, 2013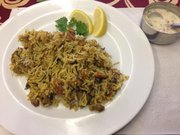 After taking a look at the giant menu on display near the register, I was overwhelmed by how many Indian dishes Cosmos offered during lunchtime. "Tomorrow we start lunch specials," owner Amrutha Ravikumar said. "It will be limited during the day, so you won't have that problem."
I left my lunch in her hands. She recommended the tandoori chicken, then asked whether I'd like to add a small portion of chicken biryani. I, of course, said, yes please!
Biryani is a popular South Asian basmati rice-based dish, made with spices, chicken, lamb, fish, eggs or vegetables. It is served with a cool yogurt sauce called raita, and seasoned with coriander, carrots, cucumber, cumin, cayenne pepper, and other herbs and spices.
Where to get it: Cosmos Indian Store & Cafe, 734 Massachusetts St.
What you'll pay: $6.99
Try it with: Tandoori Chicken, for $1.49, an appetizer of chicken marinated in yogurt, lemon juice, and various spices including cilantro, curry, mint and cilantro. The two drumsticks of spiced chicken are also served with raita.
Also on the menu: Plenty of other Indian delicacies including chicken curry, chicken tikka, naan, poori (Indian flat bread) with potato masala, lamb biryani, idli (steamed rice cakes), and vegetable korma.
— Off The Beaten Plate highlights some of the more exotic, oddly named or inventively concocted dishes from local menus. Know of an offbeat item we should check out? Email food and features reporter Nadia Imafidon at nimafidon@ljworld.com. Follow her at Twitter.com/nadia_imafidon.