Thursday, November 14, 2013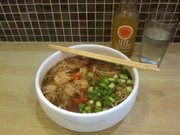 With the change in temperature, there are certain foods that just don't satisfy -- or "hit the spot," if you will -- like they did in warmer months. This is the time of year for warm and hearty goodness: comfort food that will leave you not only satisfied, but fully warmed and prepared for an afternoon nap. And isn't it just fancy that we've recently welcomed to town a new restaurant that specializes in ramen? Ramen Bowls opened in late September and the timing couldn't have been more perfect.
Specializing in Asian fusion/Hawaiian/Japanese cuisine, Ramen Bowls has a selective listing of complex ramen dishes along with starters and rice dishes. Now I have to admit, beyond the ramen packets I'd eat as meals in college (yep, the 25-cent packets, you too?) I'm hardly familiar with the art of ramen. With this in mind, I was hoping to find a dish that would introduce me to the depth of the cuisine. I noticed Haole Ramen is described on the menu as a way to "ease into traditional ramen" and took that as a sign. Noodles served in chicken/fish broth with pulled chicken, carrots and spring onions is hard to beat. My partner had more specific interests and ordered the Seafood Ramen complete with shrimp, mussels and scallops topped with roasted garlic and veggies.
While waiting for our order to arrive, we admired the refurbished interior space and swell of activity within it. Ramen Bowls occupies two levels: the lower level is lively with the bustle of the open kitchen and ramen bar, while the upper level offers a more quiet dining experience. It's a cozy space, meant for quick dining.
It may have been less than 10 minutes when our dishes arrived, piping hot. Ramen is served with both a sipping spoon and chopsticks (forks are also available, if you have chopstick phobia); with tasty broth and foot-long noodles, you'll need all the utensils you can manage to consume this specialty. Dinner got pretty quiet after that. Well, with the exception of the slurping. In fact, Ramen Bowls' tagline is "Get your slurp on!", and because it seems nearly impossible to enjoy ramen without slurping, suffice it to say we were having an excellent time.
The ramen was rich in flavor and satisfying. Though I must forewarn you: the helpings here are huge! The prices are excellent for the quality and amount of food. Our meal was $30.82 (including saki and an Izze drink), $36.02 after tip. I'm certain Ramen Bowls will become a quick favorite during the cold winter months. When your bones are chilled and you need to feed your soul, you'll know what to do: get your slurp on!
— Jessica Pauly, aka Mrs. Mass., gives her thoughts on shopping, urban living and what's new in Lawrence in CheckOut weekly and on her blog, mrsmass.com.
More like this story on Lawrence.com