Thursday, November 14, 2013
Peaceful Getaway: Halcyon House, 1000 Ohio St.
For 28 years, the Halcyon House has been providing a charming and warm escape for couples, visiting professors, business associates and Kansas Athletics fans (and even Lawrence residents) looking for a special getaway without having to travel far.
Halcyon Room Rates
Carriage House (separate unit) - $139
Garden Suite (private entrance) - $119
Master Suite (king bed) - $119
Good Times Suite (king bed) - $119
Gambler's room (queen bed) - $119
Nooks and Crannies (Queen bed, shared bath w/ Butterfly room)- $69
Butterfly Room (two twin beds)- $69
Atrium (queen bed, shared bath w/ Den) - $69
Den (queen bed) $69
Opened by Esther Wolfe in 1985 (the house itself built in 1885), the Downtown Lawrence haven has been going strong since the start.
"We've had people start with Esther in '85 and they still come," says Karen Doue, the business' current owner and manager. The property is still owned by Wolfe and her daughter. "We've watched some of their kids go through school, and you hate to see them go away, because they don't come as often after they have kids."
Doue has hosted people from all over the world and all walks of life, reserving a room, or sometimes the entire house, whether it's a couple of women who want to spend the weekend shopping in Downtown Lawrence, or a group of nine couples participating in a marriage counseling/renewal seminar (think Tyler Perry's "Why Did I Get Married?").
Fully equipped with theme rooms such as the "Good Times Suite," "Nooks and Crannies" and the "Butterfly Room," the Halcyon House opens up to a beautiful, spacious living area next to the warm kitchen, where homemade breakfasts of eggs, sweet breads, waffles, jam, granola and other specialty items await the guests. Seven rooms are available in the three-story house, along with a suite with a private entrance and a separate unit with a kitchenette.
"Some people have been in every room; that was their goal," Doue says. "Everything's peaceful in here. It's very homey. Everything's good."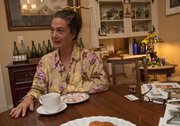 Historian's Retreat: Runaway Pony, 603 Tennessee St.
Located at 6th and Tennessee, Runaway Pony Bed & Breakfast is a beautiful Victorian house restored by owner and avid preservationist Serina Allison.
Runaway Pony Rates and Amenities
Price Range: $80-$150 a room
General amenities:
• Air conditioning
• WiFi
• Off-street parking
• Linens provided
Outdoor Features:
• Large yard
• Deck/patio
• Gas/electric grill
• Charcoal grill
Allison has been involved with the restoration of 20 Victorian homes in Lawrence, planning everything from room dimensions to color schemes, and discovering the historical background of each property. Before restoring houses, she was a fashion designer in London, having studied at St. Martin's School of Art.
"I can walk into a house and know what it should look like," Allison says of the homes she has renovated that were completely rundown when she purchased them. "If I saw the world the way it really is, I would not be an artist."
This bed and breakfast is named for heroic pony Freddie of original owner J.G. Sand, one of the first anti-slavery Easterners to settle Lawrence in 1855. During Quantrill's Raid in 1863, pro-slavers sacked Lawrence and had planned to kill Sands and his two neighbors, B.W. Woodward and Dr. A. Fuller, and burn down their homes. Freddie the pony created a distraction while escaping and led the murderous group away, saving the lives of these three men and their homes.
"I love history," Allison says. "It seems I'm always giving a history lesson to my guests on Sunday morning over breakfast. That's my favorite part."