Thursday, November 14, 2013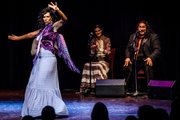 To Adriana Maresma Fois, anyone who passes on leaves behind poetry in memories. Through dancing, singing, and even connecting with one another, Maresma Fois says, poetry can honor life's journey.
So it's only natural that her dance company, AMFlamenco Danza, is dedicating its original "Poesía Flamenca-Flamenco Poetry" to her late mother on its five-city tour. The first stop is the Lawrence Arts Center on Nov. 16.
"The production is inspired by the poetry my mother, Gladis, left me," Maresma Fois says. "Her life's essence and memories are inside my mind and heart."
The theatrical work will blend traditional and contemporary flamenco, soloist Cantaora Roco Soto and guitar with elements of improvisation. Two dancers, Maresma Fois and José Moro, will feed off the music in a powerful, interactive flamenco jam session. The energy created between dancer and spectator is central to the show, Maresma Fois says.
"It captures the audience to come inside, to feel," she explains.
Leaving behind a legacy is also at the heart of the production, the dancer says. Not only did the loss of her mother inspire the show, it made Maresma Fois contemplate her own life's poetry for her 8-month-old niece, "a miracle after many losses."
"It got me to think what I would want to leave her behind," Maresma Fois says.
Born and raised in New Mexico, Maresma Fois earned degrees in photography and dance at the University of New Mexico. While studying in Granada, Spain, she was exposed to Spanish flamenco, which she says struck a chord in her and compelled her to begin training. Since then, she has toured with international dance companies, co-founded a dance company in Italy and founded AMFlamenco Danza in 2009. Maresma Fois has lived in Jerez de la Frontera, Spain for 14 years with her husband Juan Gomez, the production guitarist.
"Flamenco found me, and slowly I developed a career in it," she says. "I have been fortunate and hard working to keep it going."
Her longtime plans to connect her U.S. homeland with her adopted country of Spain and its folk art of flamenco are being realized on this tour, she says. The dream is to establish a direct link with the company in both countries to foster and support artists.
Maresma Fois has taught flamenco workshops in Kansas and has family in Overland Park, so she felt Lawrence would be the best place to start the tour.
"I think the show will be well received, and we hope to share our passion of flamenco with a wonderful audience," she says. "I feel this art is one of the most direct ways to communicate, and when performed with respect to the tradition, it can reach and touch one's soul, leaving everlasting memories."
The program begins at 8 p.m. Tickets are $25 for adults, $22 for seniors and $17 for students. They can be purchased at the Lawrence Arts Center or at lawrenceartscenter.org.
More like this story on Lawrence.com