Sunday, November 17, 2013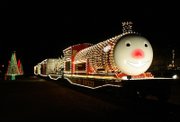 The holiday season is when Kansas City literally starts to shine. With a number of lighting displays, special events and performances throughout the rest of 2013, the area is well worth a holiday visit.
Lighting Ceremony at the Plaza
The brightly lighted towers, red-tile roofs and bustling crowds of the Country Club Plaza are easily the most iconic images of the holiday season in Kansas City. The lighting ceremony itself, held each Thanksgiving evening, draws tens of thousands of people to the Plaza's streets.
The events begin at 5 p.m., with a televised ceremony from 6 to 7 p.m., at which point celebrity guest Rob Riggle and a child chosen at random will flip the switch. A concert by Irish folk group The Elders will follow. The ceremony isn't for agoraphobes, but for everyone else it's worth attending at least once.
The lights stay on through Jan. 12, so there's plenty of time to see them and enjoy the Plaza's amenities through that time, including Hall's Department Store, which will be consolidating with the Crown Center location in February.
Crown Center
With the massive mayor's Christmas tree across the street, an extensive Santa's playground, dozens of shops and an adjoining ice terrace, Crown Center is Kansas City's de facto holiday headquarters. The recent addition of the Sea Life aquarium and Legoland Discovery Center have added to shopping center's appeal, though each has a separate admission fee.
On the evening after Thanksgiving, the massive Mayor's Christmas Tree will be illuminated following a ceremony that begins at 5:30 p.m. This year, Mayor Sly James and rapper Tech N9ne will do the honors. Santa arrives that same day, and his Gingerbread Village (free of charge, with a fee for photos) will be open during regular shopping hours. School choirs will be singing in the main lobby from the beginning of December through the 19th, and of course there's plenty of shopping, dining and people-watching to be done throughout the premises.
Union Station
The classic architecture, expansive indoor setting, giant strands of lights and colorful decorations of Union Station make it another excellent holiday destination. A highlight is the Kansas City Southern's Holiday Express Train with Santa, which will be at Union Station from Dec. 18 to 22. The Holiday Express is an actual train that makes stops in several cities, with cars including Rudy the smiling tank car, a flatcar with Santa's sleigh, a gingerbread boxcar, a mobile elves' workshop, a reindeer stable and a red caboose. Sponsored by the Kansas City Southern railroad company, the Holiday Express is free to enter, with donations accepted toward helping provide clothing for children in need.
Also on display after Nov. 24 is an elaborate Model Train Experience, with each train weaving through miniature villages, countrysides and holiday landscapes. Other events include a Dec. 14 story time with Mrs. Claus and a Dec. 21 Polar Express Pajama Party. For a full list of seasonal events, visit unionstation.org.
Christmas in the Park at Longview Lake
When I was little, we'd all cram into the car and drive out to some remote place with dozens of dazzling animated light displays. I eventually figured out this was Jackson County's "Christmas in the Park" display at the Longview Lake, which utilizes even more lights than the Plaza. Christmas in the Park kicks off Nov. 27 at with a stage show at 6 p.m. and fireworks around 7:30. The display will be open to the public through Dec. 31 from 5:30 to 10 p.m. Sunday through Thursday and until 11 p.m. on weekends. Admission is free, with donations collected for charity at the exit. Search "Longview Lake Campground" for directions.
Ice Skating
One fun way to get some exercise during the winter months is to get a group of friends or family members together to go ice skating. Crown Center's outdoor rink is the most popular spot (10 a.m. to 9 p.m. Sunday through Thursday, 10 a.m. to 11 p.m. weekends), but the Ice at Park Place in Leawood (117th and Nall, 11 a.m. to 10 p.m., Monday through Saturday, noon to 8 p.m. Sunday) is another excellent outdoor option. Both rinks cost $6 for admission with $3 skate rental, and hot cocoa and other beverages are available. Indoor rinks in the area include Ice Sports in Shawnee (19900 Johnson Drive) and Pepsi Ice Midwest in Overland Park (12140 W. 135th).
A Christmas Carol
Charles Dickens' classic tale of greed, redemption and spectral Christmas visitors is brought to life each year by the Kansas City Repertory Theatre. This year's production of "A Christmas Carol," the company's 33rd, begins Nov. 22 and runs through Dec. 26. Tickets are on sale through KCRep.org or by calling 816-235-2700.
The Nutcracker
The Nutcracker Ballet is Kansas City's premiere holiday stage experience, involving hundreds of professional and student dancers, the Kansas City Symphony performing Tchaikovsky's score, and a stunning array of costumes, lights and special effects. The ballet opens at the Kauffman Center for the Performing Arts on Dec. 7, with 18 matinee and evening performances up through Dec. 24. For ticket information, visit kcballet.org.
Fried Chicken at Stroud's
There are many great restaurants in the city, but few with the family-style appeal and down-home cooking of Stroud's, a Kansas City institution since 1933. Most guests wind up ordering a large platter of fried chicken and sides to share with their family, but on a recent visit I tried the chicken fried chicken with gravy and have been thinking about it ever since. Locations are in an old log cabin at 5410 NE Oak Ridge Dr. in North Kansas City, Mo. and in a newer facility at 4200 Shawnee Mission Pkwy in Fairway, Kan. Visit stroudsrestaurant.com for more details.