Wednesday, November 20, 2013
When my friend Terry described her new favorite instant oatmeal, my brain partnered with my sweet tooth to find a way to turn said oatmeal into a cookie.
Fruit, nuts, and general yumminess? I'm there, dude.
Technically, these cookies are good for you, because they're full of fruit and grains and healthy stuff. In reality, there's kind of a lot of sugar and butter in them, so try not to eat the whole batch all at once.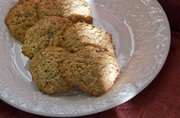 To start, shell a few thousand pistachios. Well, it'll feel like a few thousand, but you only need half a cup. Chop them up and set them aside with one half cup each of chopped dried cherries and apricots. Preheat your oven to 375 degrees. Feel free to eat any extra pistachios or fruit.
Cream together two sticks (one cup) of softened butter, one cup of plain sugar, and one cup of packed brown sugar. Add two eggs, 1 tablespoon of vanilla, 1/4 cup of vanilla flavored Greek yogurt, and 1 tablespoon of milk. Beat this together for a minute or so on medium speed, scraping the bowl regularly.
In a separate bowl, mix together 1 1/2 cups of flour, 1/2 teaspoon of salt, 1 teaspoon of baking soda, and 1/2 teaspoon of allspice. Blend the flour mix into the butter mixture.
Now comes the workout! Unless your stand mixer has the strength of a freight train, or you have trouble with upper body workouts of any kind, you'll need to do this step by hand. I tried to add large amounts of oats to a cookie recipe once before; my mixer jumped off the counter and rattled out the door in protest. Stir in 4 cups of quick-cook oats, the pistachios and the dried fruit. Have your favorite exercise music or "Song of the Volga Boatmen" playing in the background for motivation.
Once all of the ingredients are well-mixed, drop the dough by rounded tablespoonful onto an ungreased cookie sheet. Leave about 2 inches of space between each little dough ball. Refrain from eating the raw cookie dough because we've all heard that terrible things will happen to you if you ingest raw cookie dough, and yadda, yadda, yadda. Even though it smells really yummy.
Pop the cookie sheet into the oven and bake for about 13 minutes. The cookies will be a golden caramel color. Let the pan cool on a rack for 4 or 5 minutes, then transfer the cookies to the rack to finish cooling. Or to be eaten immediately, which is what happened at our house. Between the kindergartner, his daddy and random neighbors who "just happened to be passing by," cookies fail to last long around here.
Although most baked goods are best eaten the day they're baked, these cookies will keep for a short time if stored in an airtight container. A very short time; I made about 5 dozen, and they were all gone the next day.
Enjoy!