Sunday, November 24, 2013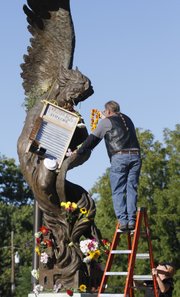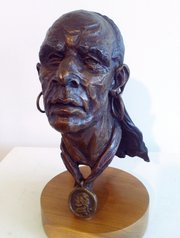 The legacy of American sculptor and Lawrence resident Jim Brothers lives on, as local artists, Lawrence Creates Makerspace and Lawrence Art Guild present new exhibit, "Recollections: Friends Remember Jim."
Brothers died Aug. 20 at age 72, after a long fight with cancer. The collection will show a progression of his life as an artist over time, says art guild president, Amanda Monaghan.
The most famous of Brothers' pieces include his bronze historical figures and contributions to the National D-Day Memorial in Bedford, Va., and the Korean War Memorial in Washington, D.C. He also created the Gen. Dwight Eisenhower statue in Statuary Hall in the U.S. Capitol. He also created the Lawrence Visitors Center sculpture "From the Ashes," a depiction of a man morphing into a phoenix as it rises from the flames of a burning building; it symbolizes the city's rise from the ashes after Quantrill's Raid.
Many have yet to see his earlier work welding wire sculptures and jewelry, pieces soon to be displayed along with his other works Dec. 6 through Jan. 11.
"It will show the evolution of Jim's work, and how he grew as an artist," Monaghan says.
The Lawrence Art Guild, previously located at 1109 Massachusetts St., has found a new home in Lawrence Creates Makerspace, 512 E. Ninth St., and the Brothers showcase will be its inaugural exhibit. Monaghan says the location not only provides an industrial feel that serves as the perfect backdrop for Brothers' art, but it launches a new storytelling mission of the art guild in the rich art community of Lawrence.

"We don't have the downtown storefront so we're not selling art through window displays or anything like that," Monaghan says. "It's more about telling stories of art with this gallery. People can learn about the artist or how a sculpture was created. This is more hands-on learning."
Other artists will have featured works in the exhibit as well, all paying their tributes to Brothers. This includes a painting of him playing the washboard in bluegrass band he founded, the Alferd Packer Memorial String Band, painted by longtime friend and artist Louis Copt.
"That's how I like to remember Jim with his washboard and fringe jacket and that kind of stuff," Copt says. "That's how I still picture Jim, still having fun and playing music."
Copt had known Brothers since 1966, having been his art student at Emporia High School. He not only admired Brothers' incredible craftsmanship but also his tenacity for an underappreciated art. He was constantly working to create a new project and reinvent himself.
"Even until the day he died; he died in his studio," Copt says. "That's an inspiration. Traditional sculpture is a lot of hard work and it's a craft. It takes a lot of discipline. Jim had that. He wanted to perpetuate a bohemian lifestyle but he was actually very dedicated to his work and one of the hardest-working artists I knew."
The real-life figure sculptures Brothers would create were unlike any others, Copt says. He had an amazing talent to sculpt faces and hands, but even more so, he could always capture the spirit of the subject.
"Not everyone can do that and pull it off," he says. "There are half sculptures of that stuff but to really get the spirit in there, that's where the challenge is."
Copt hopes the exhibit will attract young people, and perhaps people unfamiliar with Brothers' bronze work to inspire them to become artists in the sculpting field, which isn't easy with the many other options available, he says.
"Everyone's a photographer or a painter," Copt says. "But a piece of bronze will be here forever. It doesn't rot, disintegrate. The place could burn down and you could dig it out of the ashes. There's a permanence."
The opening reception for the exhibit will be 7 p.m. Dec. 6 at the Makerspace, where some of Brothers' favorite things will be served, including Cajun food, hot chocolate and Calvados cocktails. Images of Brothers working taken by Journal-World photographer Mike Yoder will be displayed, as well as video clips, in hopes of bringing back his fun and friendly soul.
"Anytime you can see a full collection of person's work in one place, it kind of revives their spirit," Copt says. "To me this is one way that people can come and get a sense of Jim and experience his spirit."