Thursday, November 28, 2013
A second-hand boutique that offers familiar brands is always something I'm interested in checking out.
I discovered Arizona Trading Company years ago when I used to make frequent shopping trips to Lawrence in high school. But I never started shopping there until my later years because back then I wasn't as open to the idea of thrift shopping as I am now.
In fact, now I love the idea of recycling my closet because there's always that possibility of scoring a designer piece that is old enough to not even be sold anymore, but classic enough to still be in style.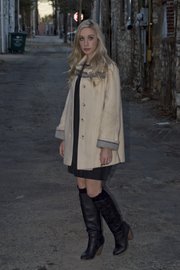 That is the feeling I get when I sort through the abundant amount of merchandise at Arizona Trading Company, 736 Massachusetts St. When I shop there, 90 percent of the time I score something that essentially you can't find any more in a large retailer. I'm also always confident that the store is stocked full of trendy (and sometimes a little edgy) finds. In other words, the buyers know what they are doing.
Another intriguing aspect of the store is their eye for vintage finds. They have a wide assortment of vintage pieces that truly are "vintage." I love that they mix in vintage apparel and accessories to make a well-rounded and fashion-forward store.
During my recent visit to ATC, I spotted many seasonal pieces, such as oversized coats, sweaters and jackets, but my first find was actually a sleeveless Rachel Roy dress with an edgy caged neckline.
Rachel Roy is one of my favorite designers so I knew I couldn't pass up trying on this one. I was wondering how I could use this warm-weather dress as part of my winter wardrobe, so I did everything in my stylish power to "warm it up." I think we all have a favorite dress that we want to wear year-round.
A simple and somewhat obvious suggestion to making that dress work in the winter is to find a coat or jacket to layer. Holiday parties are right around the corner, and sleeveless dresses are totally appropriate as long as you know how to cover it up a bit.
I found a neutral oversized wool jacket that was definitely heavy enough to keep me warm. I love the slight brightness it adds to the solid black dress.
The next step is to cover the legs. I chose to wear knee-high boots and knee-high socks that are worn slightly higher than the boots. Another easy option would be to wear a pair of black tights. I was able to incorporate my Rachel Roy find, and instantly I had a holiday-ready look at an unbeatable price!
For my next outfit, I was going for a more casual look that I could wear for my holiday shopping outings. I wanted something that was comfortable but that still made a statement. I found these H&M; jeans for only $10! The price and the style won me over right away.
Next I found a brand new Gap sweater (with the original tag still attached) that was more than $60. It had a little sequin detailing (perfect for holiday!) on the front and a comfy oversized fit that, again, won me over as well.
Just as I thought my outfit was complete, I spotted a Forever 21 faux leather jacket. Layering with different fabrics and textures is a huge trend this season, so I threw the jacket over the Gap sweater and let the sleeve hems peek out the sleeves of the jacket to get a worn-in, effortless look. A bit of brightness from the beanie keeps the outfit from looking too predictable.
— Emily and Elizabeth Kennedy are twin sisters and fashion bloggers who share a blog called Fashion Column Twins. They can be reached at fashioncolumnblog@gmail.com.
More like this story on Lawrence.com