Thursday, November 28, 2013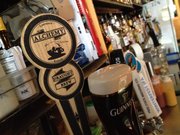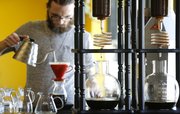 There's a new brew on tap in Lawrence, and this one's entirely appropriate to drink before noon.
At the end of a long line of beer handles behind the bar at Burger Stand, there's a single tap pouring Nitro Cold Brew — Alchemy Coffee's latest java experiment.
Alchemy owner Ben Farmer said he was only aware of a few other places in the country, and none in this area, that serves cold-brew coffee out of kegs.
Alchemy's signature drip-system cold brew has been selling "like crazy" since the shop opened in March, Farmer said. That got him thinking, "Well, where else can we take this?"
Farmer and a friend, a home beer brewer, spent about two months developing, building and testing the delivery system for Alchemy's cold brew on tap. Batches of coffee brewed through the shop's drip system are kegged and pressurized with nitrogen.
The coffee itself is not fermented like beer or carbonated like pop, but it lands in the glass with a hint of effervescence and a slight head that takes a few moments to settle.
"It sweetens it up a little bit," Farmer said. "It gives it that creaminess. It brings out the aromatics a lot, too. Normally with cold brew you don't get a whole lot of aromatics."
Farmer said he started serving the cold brew on tap at Alchemy, 1901 Massachusetts St., before the second keg was tapped Friday at Burger Stand, 803 Massachusetts St.
Burger Stand bar manager Beau Bruns said he was happy to bring a little bit of Alchemy down the street.
"It's exciting to partner with another local company," Bruns said. "They make really quality stuff."
Burger Stand already has a drink menu based on the new, caffeinated offering.
In addition to a straight pour of Alchemy Coffee Nitro Cold Brew, you can get it with Iwig Family Dairy white or chocolate milk, or in an Eiskaffee — poured over ice cream and topped with whipped cream.
For adults only, there's Irish Coffee featuring cold brew, whiskey and Baileys Irish Cream (original, cinnamon or caramel) or the Five O'Clock Shadow with cold brew, Kahlua and tequila — kapow!