Thursday, November 28, 2013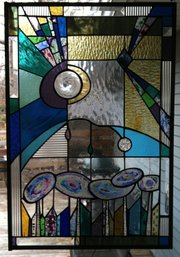 As in previous years, this month's Final Friday offers plenty of opportunities for holiday shopping — outside the box store.
Nowhere is that more true than at the Lawrence Arts Center, where over a hundred artists will assemble for the 25th annual Bizarre Bazaar.
Stained glass artist Shanna Wagner is one of those talented people.
"I'm excited — the artists are so much fun to display with," Wagner said. "I will have to juggle shopping and selling because I buy at least half my Christmas presents at the Biz Baz every year."
Wagner will have a variety of pieces ranging in prices from $3 to $300, including ornaments, mosaic glass kits for kids and one-of-a-kind stained glass panels.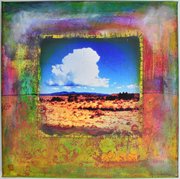 Bizarre Bazaar will be from 5 to 9 p.m. Friday and 9 a.m. to 5 p.m. Saturday.
Another venue you won't want to miss is Downtown Upstairs (824 1/2 Massachusetts St.), where the space itself is a work of art.
"It's very eclectic because it's been owned by a group of friends for 20 years and things just get left behind and incorporated into the space," said Traci Bunkers, who has teamed up with Uncle Andy to offer a wide range of "eye candy" for your holiday needs. "We'll have a little bit of everything: homemade books, cards, hand-dyed yarn and scarves, and some pocket mirrors, which make great stocking-stuffers."
Downtown Upstairs will also be open for Small Business Saturday from 11 a.m. to 3 p.m.
If retail therapy is not what you need to get you through the holiday season (think of the family togetherness headed your way), get some insight into yourself using Kristin Ferrell's show at The Invisible Hand (810 Pennsylvania St.).
Inspired and influenced by artists such as Hieronymus Bosch and Albrecht Dürer, Ferrell is intrigued with the different selves we put forth when dealing with others. With "Grinding Axes Down to a Nub," Ferrell explores the dichotomy of who we are versus who we wish to be in our relationships. Her drawings and paintings often pair humanoid and animal-like characters and show her sense of humor, which is both whimsical and macabre. Ferrell encourages viewers to create their own stories while looking at her work to develop a more personal connection and understanding of her art.
Ferrell's show will move to the lobby of the Lawrence Arts Center on Sunday.