Thursday, November 28, 2013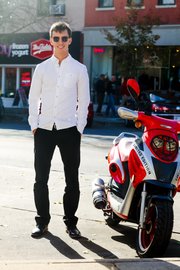 Age: 22
Relationship status: Yes
Hometown: Basehor
Time in Lawrence: Four years
Occupation: Mechanical engineering student
Dream job: Owning a really massive business.
What were you doing when scouted? Just came from Amyx Barber Shop.
Describe your style: Modern and formal. That's all I got, or a little bit French, I guess, when (my girlfriend) is trying to make me into a Frenchman. But I like tight clothing. That's all I got and that's where I'm at. Leave me alone, Ed!
Fashion trends you love: I like the new wing-tip shoes that are coming out and anything French or European is good.
Fashion trends you hate: Wearing sweatpants to class says, "I'm here for class and that's all I'm here for. I have no purpose other than to fall asleep in class." I also hate suits that are really oversized.
Fashion influences: (My girlfriend) buys me clothes. That's where my fashion influences come from.
What would you like to see more of in Lawrence? Well-dressed young people, more scarves and good shoes.
Less of? Sweatpants
Tattoos or piercings: None, but they're cool if you can pull them off. I can't because I'm much too innocent and too pure.
Whom do people say you look like? Definitely Tom Cruise! Often times I get that like once to three times a day! Nah, I don't get told that I look like many people.
What type of music do you unwind to? Frank Sinatra, Alt-J, Louis Armstrong, Nina Simone and Ella Fitzgerald.
Tell us a secret: I got nothing. I have no secrets!
More like this story on Lawrence.com