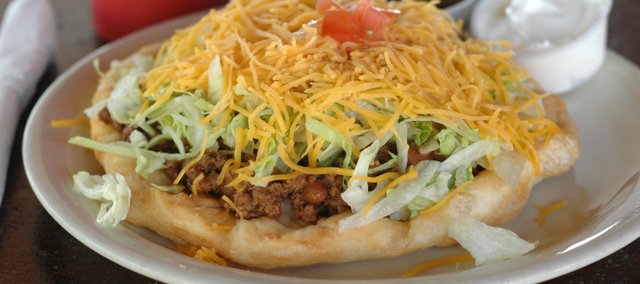 Thursday, October 10, 2013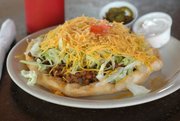 Outside of fair week and summer festivals, Indian Tacos get harder to find. But on one day a week, hungry bikers can be found chowing down on them at Slow Ride Roadhouse in North Lawrence. Their Tuesday special features a plate-filling round of puffy frybread heaped with beef and beans, shredded lettuce, cheese and tomatoes.
Where to get it: Slow Ride Roadhouse, 1350 N. Third St.
What you'll pay: $5.49
Try it with: Sour cream and house-made salsa — go for the spicy.
Also on the menu: Nachos, Biker Wings, Roadhouse Chili, "Hog" Tenderloin and other sandwiches, burgers and catfish baskets. One-day-a-week specials include meatloaf and chicken-fried steak. On weekends, the Roadhouse serves hearty breakfasts from 8 a.m. to noon.
— Off The Beaten Plate highlights some of the more exotic, oddly named or inventively concocted dishes from local menus. Know of an offbeat item we should check out? Email food and features reporter Sara Shepherd at sshepherd@ljworld.com. Follow her at Twitter.com/saramarieshep.