"When comrades seek sweet country haunts/ By twos and twos together/ And count like misers, hour by hour/ October's bright blue weather." — Helen Hunt Jackson
My grandfather used to love to recite that poem quoted above, and I often think of it on bright October days like this one. In that same spirit of cherishing October's precious hours, let's take a quick run through some of the notable events and activities this week Kansas City's country and city haunts.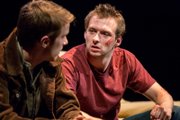 Next weekend, Sam Shepard's play "A Lie of the Mind," will be performed at the Bodker Black Box Theatre on the Johnson County Community College Campus. This drama explores the depths of two families whose lives and tragedies are deeply intertwined.
The play is directed by Cinnamon Schultz-Paulette, a Kansas University theater alum, and features Lawrence resident Erica Fox in the role of Lorraine. Performances will be held at 2 p.m. today, 7:30 p.m. Friday, 2 p.m. and 7:30 p.m. Saturday and 2 p.m. next Sunday. And it's free! Visit jccc.edu/theatre for more details.
Also on stage this month is the Broadway smash "Wicked," a re-imagining of the Wizard of Oz story that is both seasonally and geographically appropriate. "Wicked" will be performed at Municipal Auditorium's Music Hall through Oct. 27. Tickets for this traveling Broadway musical start at $50 and can be purchased at musichallkansascity.org.
Concerts
He doesn't have his own musical yet, but Arish "King" Khan is one of the most energetic, rabble-rousing performers you'll see on stage.
"For me music has always been an alchemic, healing process," he said in a recent interview with the Vancouver Sun. "It's very spiritual ... That's why I love gospel and old R&B;, there's a lot of pain and suffering and it turns into this incredible scream that cleans your blood."
On next Sunday, King Khan and his band, The Shrines, will hit the Record Bar with their custom blend of soul and R&B.; Tickets are $13 for this 18-and-over show, which starts at 7 p.m.
On Thursday, 96.5 The Buzz presents its annual Halloweenie Roast, featuring The Naked and Famous, Portugal., The Man, The 1975, The Colourist and Crystal Fighters. Tickets cost $17 at midlandkc.com or $22 on the day of the show, which starts at 6 p.m.
Josh Groban's "In The Round" tour will be stopping in Kansas City at 7:30 p.m. Wednesday night. Mr. Groban will take the Sprint Center stage, fulfilling the dreams of many, or at least the lady at my office who recently purchased a Josh Groban CD at Starbucks and "absolutely loves it." Tickets start at 49.50 and are for sale at sprintcenter.com.
Powell Gardens
October is a great time to visit Powell Gardens in Kingville, Mo., whether for a visit to the Terrace and Heartland Gardens or a colorful hike along the Byron Shutz Nature Trail that runs along the perimeter. Also on display in October are a host of scarecrows, which were made by individuals, families, schools, businesses and community groups as part of the annual "Scarecrows in the Garden" contest.
Admission to the gardens is $10 for adults, $9 for seniors and $4 for children ages 5 to 12.
Taco Republic
Are you hungry yet? 47th Street and Mission Road's status as a food mecca of the Midwest (the intersection is also home to Oklahoma Joe's) is strengthened with the addition of Taco Republic, a chic but laid back taco bar that includes full-service seating areas as well as a "Tacos Rapido" walk-up window.
Tacos are for sale a la carte and feature adventurous pairings of meat and ingredients. Also on the menu is a delicious Fritos Pie made with either chicken chili or chorizo chili.
Great food, pleasant service and a lovely color and design scheme. See a full menu at eattacorepublic.com.
— Lucas Wetzel is a KU graduate and Kansas City native who has worked as a writer, editor and language trainer in the U.S. and Europe. Know of an upcoming event in Kansas City you'd like to see featured in Kansas City Connection? Email us about it at kcconnection@ljworld.com.