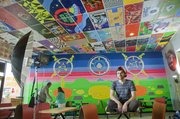 Boba Fett. The Care Bears. RoboCop.
What do all of these pop culture icons have in common? Absolutely nothing, unless you're standing in the lobby of Lawrence's beloved Pizza Shuttle and looking up at the ceiling covered in nearly 120 painted images.
Art has been taking over this restaurant's ceiling tiles one by one over the past year and a half. The menu is designed in chalk onto the wall to the right of the counter, and there is a giant fluorescent mural in the works on the opposite wall.
The artist behind it all is 28-year-old Lawrence native and part-time Pizza Shuttle worker Lance LeClair. With encouragement from the Pizza Shuttle owners, LeClair started painting the ceiling as a hobby, and then just got caught up in it.
"I've got it down to a fine art at this point," LeClair says.
When he first selected images for the tiles, he thought of things he enjoyed as a child, knowing that kids would also enjoy looking up at them as they came in with their parents for some pizza. This led to tribute pieces to The Teenage Mutant Ninja Turtles, Batman, and the well-received Spider-Man clinging to the ceiling surface and looking down from above.
"Everyone likes that one," he said. "Little kids point it out just about every day."
The lobby is almost completely covered at this point with pop culture references, nature scenes, sports team logos, dinosaurs, original ideas straight from his sketchbook and optical illusions, all surrounding the Pizza Shuttle logo.
"I've been really into optical illusions lately," LeClair says. "See the Abraham Lincoln in the scenery?" he says as he points out one of his favorite tiles among the 107 that he has worked on to develop his artistic craft.
A few tiles were already designed before he started working the pizza joint, but the rest represent hours, days and even weeks (per tile) of LeClair's time outside of work.
"I take them home," he says. "I don't actually paint on the ceiling. If you look at some of the ones that aren't yet painted, you see there are little holes in the tile. If you flip it over it's all smooth and makes for a better canvas."
LeClair has been creating art his entire life, at first by drawing when he was a kid. Then he learned the basics of painting through Van Go, Inc., an arts-based agency that provides after-school jobs for underserved and at-risk youths to create art in the Lawrence community. The kids in the program are responsible for the uniquely painted benches in town.
This independent artwork for Pizza Shuttle, however, has advanced and fine-tuned his artistry.
"I've become a much better painter," LeClair says as his eyes scan the oil and acrylic images in the lobby. "At first I could draw and I could color stuff in and I could shade. Really basic stuff with paint. I wasn't a really good painter, but I've learned a lot and become a real painter from doing it."
Because of this, the owners asked him to paint the 3-month-old fluorescent mural on the left wall of the restaurant, not yet finished, but well on its way to completion. The basic concept is a spaceship that looks similar to the Pizza Shuttle logo, surrounded by 30 solvable mazes. Next year will be the 30th anniversary of the local business.
"This will be the fourth mural I've worked on, but this is first one I've done by myself," he says.
LeClair has been asked to work on a mural for SeedCo Studios art gallery, and he might do some ceiling tiles for them as well. He also hopes to show his work at the Lawrence Percolator art space soon.
But his latest inspiration has been for classroom artwork in elementary schools.
"I've been wanting to branch out and do educational ceiling tiles for grade schools," LeClair says. "Alphabet tiles for kindergarten. Or quotes from Benjamin Franklin or Martin Luther King Jr. I have a huge list and it keeps getting bigger because I just keep coming up with more and more ideas."