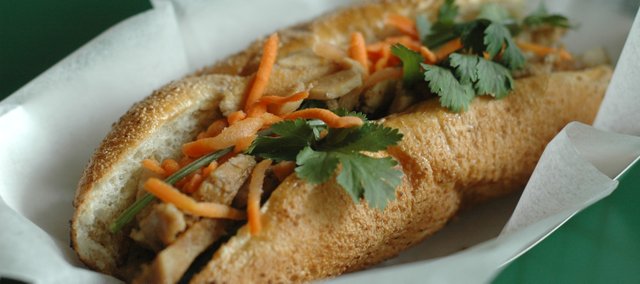 Thursday, October 17, 2013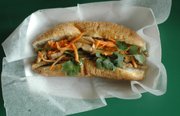 One of Vietnam's favorite street foods has immigrated to Lawrence: the banh mi sandwich. Wild Pho's take on banh mi includes a baguette-like crusty roll (mini-history lesson: colonization was the impetus for this nifty French-Asian combination) stuffed with meat, shredded carrots, cilantro and the restaurant's creamy-spicy special sauce. Choose from pork, beef, chicken, Vietnamese meatloaf, tofu or the special sandwich: chicken, pork AND meatloaf.
Where to get it: Wild Pho, 1006 Massachusetts St.
What you'll pay: $4.99
Try it with: An egg, for an extra 50 cents.
Also on the menu: Pho noodle soup — from basic chicken to tripe and tendon — is the focus. There's also bun (steamed noodles), rice dishes and the Wild Lady Platter for dessert, featuring the restaurant's choice of ice cream, macarons and other sweets.
— Off The Beaten Plate highlights some of the more exotic, oddly named or inventively concocted dishes from local menus. Know of an offbeat item we should check out? Email food and features reporter Sara Shepherd at sshepherd@ljworld.com. Follow her at Twitter.com/saramarieshep.