Thursday, October 17, 2013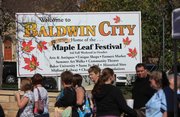 If You Go
The basics
The festival runs all day Saturday and Sunday in Baldwin City, 20 minutes south of Lawrence on U.S. Highway 56
Train rides at the historic Sante Fe Depot on West High Street available. $8 per person
Food and craft booths
Black Jack Battlefield guided tours
Free country music both days
Leave Fido home: no pets allowed
Carnival
Full carnival Friday evening and all day Saturday and Sunday.
Craft booths
9 a.m. to 6 p.m. Saturday and 9 a.m. to 5 p.m. Sunday on High and 8th streets and in old gym at Eighth and Chapel streets
Saturday
Parade at 11 a.m.; kiddie parade at 10:45 a.m.
Sunday
Gospel music in the morning in the music tent
Historical site volkswalk 10 a.m. to 4:30 p.m. Begins at the high school. 785-233-4385 for more information.
Quilt show
9 a.m. to 6 p.m. Saturday, 10 a.m. to 5 p.m. Sunday
Area history tours on Saturday
Tours start at Antiques on the Prairie at the corner of 6th and High streets
Vinland area sites 1:30 p.m.
Black Jack area sites 3 p.m.
Parking
Parking for a fee is available at the Baldwin Intermediate and Primary centers with shuttle service to the festival. The Intermediate Center is west of town on U.S. Highway 56 and the Primary Center is west of town off of U.S. Highway 56, south on Lawrence Road.
When the maple leaves turn a bright orange, Baldwin City residents know it's time to welcome some 40,000 visitors in search of crafts, turkey legs, music, a quilt show, a parade and other family-friendly events that have made the annual Maple Leaf Festival the biggest event of its kind in northeast Kansas.
Lawrence residents worried that construction on U.S. Highway 56 would make getting to the festival tedious this year need not worry: The road reopened to through traffic last week, just in time for the festival.
The reopening will make travel to Baldwin City much easier for the more than 300 arts and crafts vendors signed up to place booths on High and Eighth streets and the throngs of festival-goers expected to keep them busy.
The booths will open for business at 9 a.m. Saturday, two hours before the Maple Leaf Parade makes its way down High Street.
Floats, bands, animals, and other spectacles will march to the theme of "Whistle While You Work" during the Saturday parade, 11 a.m. to 2 p.m. Notable entries will include a new clown from the Baldwin City Lions Club and antique tractors from as far away as Iowa. The parade will have 10 to 12 bands from area junior highs, high schools, and universities.
"The fact that we have a large number of bands keeps a lot of excitement," said Jeremy Rodrock, parade coordinator.
Beer gardens gave the Maple Leaf Festival an Oktoberfest feel for the first time last year, and that atmosphere will return this year. The Baldwin Soccer Supporters' beer garden will sell Oktoberfest brews from Free State and Boulevard breweries from 11 a.m. to 6 p.m. Saturday only, said Diane Deitz. The money raised from beer sales will help support the Baldwin High School girls' soccer team.
The food and craft booths are a huge draw for the festival, with many vendors signing up for the next year's festival before the current one ends. Among the 300 booths expected this year are the Baker University Kappa Sigma booth with its popular turkey legs and brats, the Baldwin City Lions Club booth with funnel cakes and the Annunciation Parish Knights of Columbus booth in front of City Hall.
Country music will again fill the entertainment tent to be pitched on the empty lot west of the Post Office on the 700 block of High Street. Maxine Scott, who has helped with the entertainment tent for more than 27 years, said it would again feature area country bands for Saturday and Sunday performances.
"We always have strictly country music," she said. "I think it goes over just fantastic, or we wouldn't still be around." The bands all play for free.
Levi and Suzie Davis, coordinators of the children's entertainment, said the petting zoo would again have a mix of domestic animals such as donkeys, ponies, goats and sheep, as well as zebras, llamas, antelope and other exotic beasts. The pony rides also will be back. The area will also have a bounce house, children's crafting area and face painter, Suzie Davis said. New this year will be shows by Mad Science of Kansas City, a science education enrichment provider with shows at 12:30, 2 and 4 p.m. Saturday and 11 a.m., 1 p.m. and 2:30 p.m. on Sunday.
More like this story on Lawrence.com